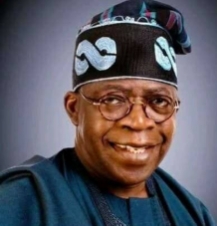 Politics
Pro-Tinubu group goes spiritual
CITIZENS COMPASS – A  group under the auspices of The Natives has said it will commence a vigil in the Federal Capital metropolis, beginning from Friday.
The group took the decision ahead of Monday's inauguration of President-elect, Bola Ahmed Tinubu. 
National Convener of the Forum, Hon. Smart Edwards said this while addressing journalists, shortly after a Unity Walk to the Federal Court of Appeal in Abuja.
Edward noted that the decision of the group was on the heels of revelation by security agents that faceless individuals were starting to disrupt the inauguration ceremony.
He equally cautioned those that are nursing the idea of Interim Government to succeed President Muhammadu Buhari to perish the thought.
"We the Natives of this country will not allow saboteurs and the proponents of parallel government to cause chaos and instability in Nigeria.
" We will, however, embark on vigil on the streets of Abuja, the Federal Capital Territory, beginning today Friday till Asiwaju Bola Ahmed Tinubu is sworn in on Monday, May 29. 2023.
" We will do this because of our conviction that Tinubu's presidency will bring prosperity, development and unity of this great Nation. We call on all Nigerians to join us in this task of ensuring peace and stability of our dear Nation."
"We are here at Appeal Court today to state categorically that we the Natives of Nigeria will not allow the idea of parallel government. In fact, the idea should be dead by now and we strongly warn the proponents of this evil to perish the idea because Nigeria is not a Banana Republic where law and order do not exist.
President Muhammadu Buhari's tenure will never be extended beyond Monday, May 29. He is a democrat and will end up as a hero," he said.
–Tribune