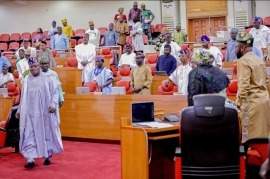 Politics
Why First Lady, Oluremi Tinubu deserves to be celebrated at 63 – Lagos Assembly 
CITIZENS COMPASS —Members of the Lagos State House of Assembly have celebrated with the First Lady of the Federal Republic, Senator Oluremi Tinubu on her 63rd birthday.
The Speaker, Rt. Hon. Mudashiru Obasa, who directed the Clerk of the House to transmit a letter congratulating the First Lady on behalf of the Assembly, described Oluremi as a wonderful woman whose doors are always open to Nigerians in need.
"As a former First Lady of Lagos State, she continued and upgraded the Committee of Wives of Lagos State Officials, COWLSO, which is today appreciated far and wide.
"Her New Era Foundation lifted thousands of people, including widows, promoted and encouraged educational empowerment through the Spelling Bee competition that have produced many 'One-Day Governors' in the State.
"As Senator, she stood for Lagos in many capacities making the State proud of her. 
"As the First Lady of Nigeria, she has continued with her strides for the well-being of others with unquantifiable compassion and zeal to help the less privileged, the challenged and those in need. She is doing this successfully through her Renewed Hope Initiative," Dr. Obasa said adding that her philanthropic gestures have helped to build hope and motivate people.
He prayed for long life and health for the First Lady and her family.
Earlier, Hon. Omolara Olumegbon, who raised this on the floor of the House, appreciated Senator Oluremi for her achievements while she was First Lady of Lagos and in her capacity as the Grand Patron of the Committee of Wives of Lagos State Officials (COWLSO).
Hon. Olumegbon also recalled how the First Lady touched lives while she served as Senator of the Federal Republic of Nigeria.
She described the First Lady as a mother, philanthropist, politician and patriotic Nigerian.
While Hon. Joseph Kehinde extolled her as a woman who loves widows and children, Hon. Olotu Emmanuel commended her for always helping people.
Hon. Mosunmola Sangodara described Senator Oluremi Tinubu as a woman of strength who is also God-fearing.
According to her, the First Lady is "a humble person who respects people irrespective of their ages. She is a woman to emulate for the support she has always given President Bola Ahmed Tinubu."
Meanwhile, the House also commended President Bola Ahmed Tinubu for his achievements in the last 100 days in office while urging for equitable distribution of palliatives in the form of social amenities across the country.
The lawmakers expressed satisfaction with the President's effort to ensure the economy is stabilised despite the removal of subsidy.
"When people are appreciated, they tend to do more and in the case of Mr. President, there have been changes in all sectors of the country.
"The country is witnessing the achievements of President Tinubu. We also need to ensure that people who are in need of the palliative enjoy it the most in terms of more input in transportation, health, agriculture, and education," Speaker Obasa said.