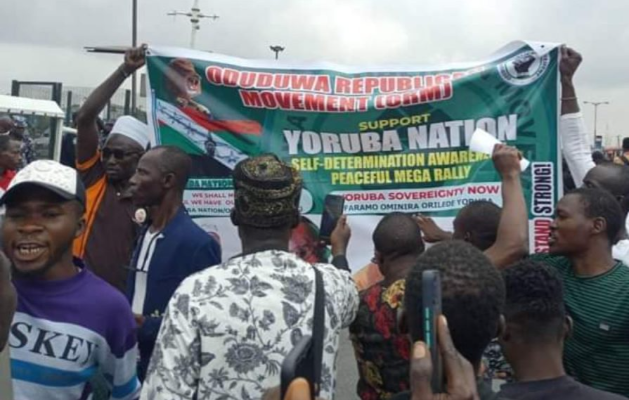 General News
News
Protesters storm Ibadan over Sunday Igboho's arrest in Benin Republic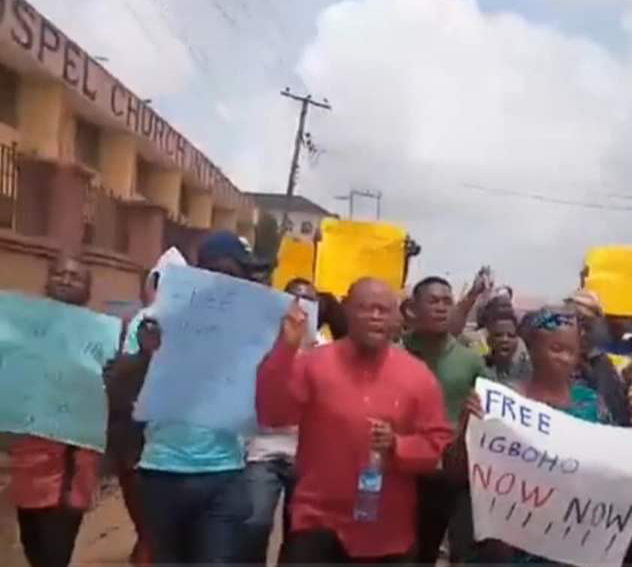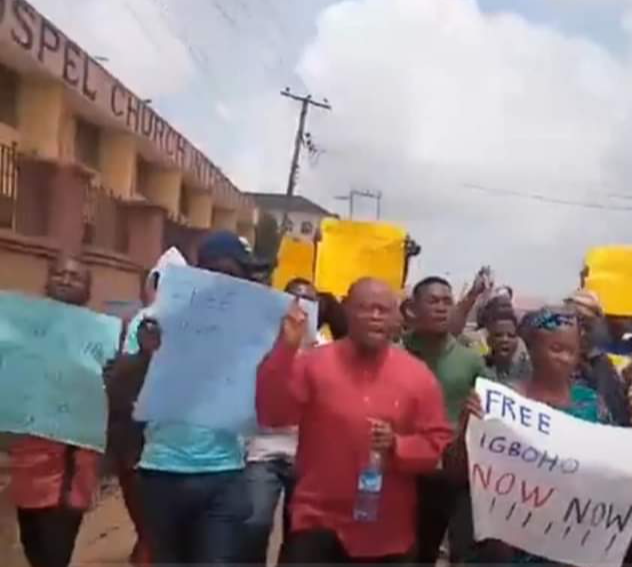 SCORES of protesters, on Wednesday, stormed Ibadan, Oyo State capital over the arrest of the Yoruba Nation agitator, Chief Sunday Adeyemo popularlly known as Sunday Igboho, in Benin Republic.
The protests took place at about Noon.
Igboho's Spokesperson, Olayomi Koiki, who uploaded a live video on his live broadcast, said,  the protesters, converged on Sunday Igboho's residence in Ibadan, to protest against the detention of the popular Yoruba activist.
In a widely circulated message, the protesters have announced the need for the protests which reads:
"Emergency! emergency!! emergency!!! emergency, please we beg all agitators to converge at chief sunday igboho house for a peaceful demonstration to show the world the kind of person he is as one of the conditions given for his release, please lets all be at his house in Soka, ibadan before 12 o clock today thanks and god bless. yoruba nation now now now,"
Recalls that Sunday Igboho and his wife, Ropo, were arrested by Interpol at the Cadjèhoun Airport in Cotonou, the Benin Republic on Monday night.
However, the Federal Government of Nigeria has since been pushing for their extradition to Abuja, the nation's capital, but many individuals and groups have kicked against the move.
Reacting to Igboho's arrest, Diaspora group, Yoruba UK Governing Body, urged the German Ambassador in Cotonou, Hans-Jorg Neumann, to stop the governments of Benin Republic and Nigeria from extraditing Igboho to Abuja. The letter co-signed by the Executive Council Chief Officer, Adebayo Odusanya; and the Independent Council Chief Officer, Isaac Okebiorunkosi.
The Middle Belt Forum described the arrest as another testimony that Buhari's regime was out to subjugate other Nigerians who were not from his northern region or faith.
The National President of the MBF, Dr Bitrus Pogu stated this in an interview with one of our correspondents in Jos.
But the Spokesperson for the Coalition of Northern Groups, Abdul-azeez Suleiman, in a statement called for a peaceful referendum on secessionist issues.