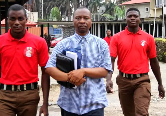 CITIZENS COMPASS– LAGOS State Special Offences Court, Ikeja has sentenced an assistant Pastor with the Redeem Christian Church of God (RCCG), City of David Parish, Victoria Island, Ayodeji Oluokun, to two years imprisonment for issuance of $1.6 million dud cheque.
Oluokun was charged alongside his company, Peak Petroleum Industry Nigeria Ltd, on an amended six-count charge bordering on issuance of dud cheque, stealing and obtaining money under false pretences.
Justice Oluwatoyin Taiwo in her judgment, held that the prosecution had successfully proved the charge of issuance of dud cheque against the defendants.
The judge however, discharged and acquitted the defendants of stealing and obtaining money under false pretences.
According to the judge, the prosecutor failed to establish the charge of stealing and obtaining money under false pretences.
The judge thereafter sentenced Oluokun to two years imprisonment or pay a fine of N2m and his company to also pay the same amount.
She ordered the convict to make restitution of $1.6 million to the nominal complainant within 18 months.
Earlier before sentencing the convict, Oluokun, EFCC counsel, Mr Samuel Daji, urged the court to convict the defendants as charged, arguing that the convict and the nominal complainant had not been on talking term, thereby making the terms of restitution difficult to meet.
He also prayed to the court to order the defendant to forfeit his property in order to pay up the debt.
In a counter reaction, defence counsel, Mr Edoka Onyeke, prayed the court to grant the convict a non custodial sentence, adding that he was a pastor and could use his pastoral work as service to humanity, through community service.