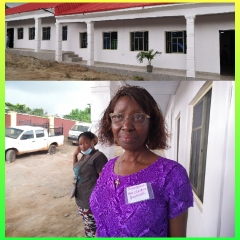 Health
RichCare organises free surgeries, health care services for Mero residents in Ogun
... as community lacks access to mobile network
By Bose Adelaja
CITIZENS COMPASS – IT was great joy for the people of Mero in the Ado Odo Ota Local Government Area of Ogun State as RichGrace Family Healthcare Foundation based in the United States of America (USA) and the Ajah area of Lagos State embarked on a medical mission to the community to unveil a hospital facility, RichGrace Center to cater for their medical challenges .
The facility, courtesy of the foundation, was inaugurated last Monday.
It offered free surgeries, dental care and health services to residents.
The medical mission trip commenced on Monday, with the unveiling of RichGrace Center which is sitting on two acres of land comprising 16 wards for women and children, restrooms, a kitchen, a laboratory, an open space for ante-natal, sensitisation and seminar.
The event continued between Tuesday and Thursday, with a variety of free medical services.
During the medical mission, a team of surgeons, medical doctors and health workers from Ogun State and Osogbo, the capital of Osun State were on the ground.
The event was rounded off at the weekend, in Abeokuta, Ogun state capital, with a reception marking the 80th birthday of Onilogbo of Ilogbo – Asowo, Oba Samuel Olufemi Ojugbele.
One of the beneficiaries of the medical initiative was a 60 years old, Ajayi Florence who was assisted to remove her tooth following toothache for over a year.
Another beneficiary was 33 years old, Ismaila Fabiyi who underwent hernia surgery.
According to him, he was diagnosed with a hernia about six years ago and a surgery was to gulp about N90,000 aside from laboratory tests and drugs.
He said,
As I was thinking about how to raise money, three people died in the hospital and this discouraged me. I ran away from there and could not do the surgery.
" When I heard about the free surgery, I gave it a trial and it worked," he said.
Another beneficiary, Sakiru Okunade also had his tooth removed by the medical team.
Some other beneficiaries said they benefited in all other aspects of the free medical services.
Speaking with Citizens Compass shortly after the event, the Founder/Chief Executive Officer (CEO) RichGrace Family Health Care Foundation, Christianah Olugbenga Oladipo, said the foundation was founded about 20 years ago but was dedicated about eight years after.
RichGrace CEO said her experience in the medical sector which spanned some decades is instrumental to the free medical services she is offering.
She said, " We just dedicated this building on Monday and the plan is to have a three- day medical mission for the people of Mero and its environs.
" The services are free as we have a team of medical doctors, nurses and health workers rendering the services", she said.
Going back memory lane, she said,
From inception, the mission of this foundation is to help the downtrodden. Fortunately, my career as a nurse has helped me to accomplish this. Pregnant women and children under twelve years old are our main focus, " 
' 'We believe there should be no discrimination and the less privileged should have equal access to health services just like the rich. Regardless of who you are, you should enjoy affordable health care services.' ' said the CEO.
How we found ourselves in Mero
The Abeokuta- born nurse said, ' 'Our initial site was at Olorunleke, near Abeokuta, the capital of Ogun State but due to resistance, we relocated to Mero where we were received with open alms. With the present location, the hospital will serve about 10 communities.
' 'The goal was to reach 100 people daily, for three days but the number was reduced due to heavy downpours.
" So far, we have done hernia surgeries, circumcision and some minor surgeries. dental services and free laboratory tests for some people.
The government advised us to extend the services to families and we have earmarked part of the facility for emergency cases in order to stabilise our in- patients pending referral to General Hospitals.''
She said the name, RichCare was coined from her parents' name, Richards and Grace who are of blessed memories.
One of the partners and elder sister to the CEO, Joy Akintunde applauded the programme.
Residents urged the Ogun State Government to give the Foundation necessary support to sustain the gesture.
Mero Residents Hardship Aside Health Facilities
—–
Mero community is few kilometers from Ilogbo, Ota in Ado-Odo Ota Local Government Area of Ogun State.
Despite its peaceful nature, commuting to and from the community is an Hearculean task owing to lack of accessible roads.
For instance, a smooth ride from Mero to Ilogbo which ordinarily should have taken 15 minutes now takes over an hour due to the poor condition of the roads.
So painful is the fact that the poor condition of the road has made commercial drivers withdraw their services from the area.
Citizens Compass reports that few car owners in the area have packed their cars due to damages to their vehicles by the poor condition of roads.
The only option for villagers is to patronise few commercial motorcyclists (Okada riders) that occasionally ply the route at exorbitant fares.
Our Correspondent experienced this when she boarded a commercial motorcycle from Ilogbo to Mero at N1,000.
In the course of interacting with villagers, it was learnt that bad road is not the only major challenge in the village but poor mobile network services which has been making communication difficult.
A resident, Alani Adenifuja said poor mobile network services has affected the day-to-day activities in the village.
He said, " poor mobile network services has affected us negatively in this village. For instance, we sometimes climb the hills or travel to neighbouring villages to make calls.
" Our traditional ruler also suffers the same fate as he cannot access mobile network services despite his position", Adenifuja said.
Another resident, Madam Mopelola Ayinde narrated her experience on the day she fell into labour at night.
"My husband could not contact the midwife on phone and there were no commercial vehicles.
' 'The option was to beg neighbours to carry me on their heads to the midwife' s house. Thank God for my safe delivery", she said.
Apart from poor road and lack of mobile network, there is lack of medical facility in Mero although this was attributed to both previously mentioned factors.