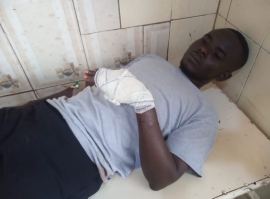 Crime
Robbers invade lodge, injure students 
CITIZENS COMPASS – Many students of the Abubakar Tafawa-Balewa University in Bauchi State, were injured when suspected armed robbers reportedly invaded their off-campus lodge.
The incident occurred last Thursday at the Sabon Kaura area of the Bauchi metropolis.
It was learnt the robbers, who were about 20 in number, carted away several items, including two laptops and six mobile phones, during the attack launched simultaneously against the occupants of three rooms
Aminu Baba, a 500-level quantitative survey student at ATBU, was rushed to the hospital after he was severely injured by the robbers, who inflicted a deep machete cut on his hand when he tried to escape after they forced their way into his room.
Another student who pleaded anonymity said he was awake watching movies on his laptop when he heard a loud bang at their gate.
According to him, neighbours from the next compound who came to rescue them were not spared.
Narrating how they were attacked, he said: "The robbery started at 2 o'clock last Thursday. Our gate was still open by then because we hardly locked it. I was watching them from my window before they approached my door.
"It was at that point I ran into the toilet and locked myself in while contemplating the next step to take if they decide to come for me.
"They robbed us for 20 minutes; it was after they left that some vigilantes came and were asking us the direction they took. We called the police, but nobody came, apart from those neighbours that came to sympathise with us."
Meanwhile, the Bauchi State Police Command has yet to confirm the incident as of press time.
The spokesperson of the command, SP Ahmed Wakili, did not respond to his calls.