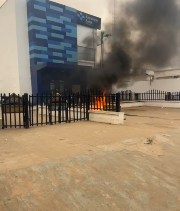 CITIZENS COMPASS–  OGUN State Governor, Dapo Abiodun, on Tuesday, vowed to  fish out those involved in the arson and wanton destruction of public property in Sagamu area of the state.
The governor, disclosed this when he visited the affected areas to assess the impact of the riots.
Recall that the riots took place on Monday, February 20, 23, few days to the presidential elections.
Citizens Compass reports that the rioters set ablaze banks and vandalised property in Sagamu.
The youths also invaded Sagamu Local Government Secretariat and the office of an electricity distribution company , destroying properties and carting the mace of the legislative council.
Addressing newsmen shortly after the assessment tour of the affected areas, Abiodun described the level of destruction of properties as shocking and beyond naira redesign or swap policy.
He said, "I am here to have an on-the-spot assessment of what happened about the protest that rocked Sagamu yesterday.
" I have visited the Ibadan Electricity Distribution Company, local government secretariat and I am here at Akarigbo road to see the banks.
What I have seen here breaks my heart. I am speechless. It was supposed to be a protest, but what I have seen here is that there are sinister objectives.
"The Ibadan Electricity Distribution Company office and the Local Government Secretariat were vandalised and properties worth millions of naira were destroyed.
" At the banks, hoodlums attempted to take away computers and cash.
" We are going after any person that either directly or indirectly associates with this hideous crime.
" We will swing them, we will arrest them and they will face the full wrath of the law and make a good example of them."
He reiterated that despite the violence that broke out in the country as a result of the EndSARS protest two years ago, Ogun State was relatively peaceful.
While commending security agents for responding swiftly to the mayhem, Abiodun appealed to residents of the State to go about their normal businesses peacefully.