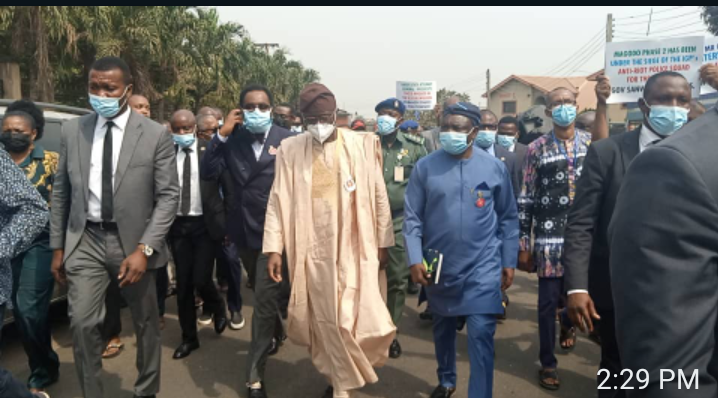 Articles
Sanwo-Olu visits Magodo estate as residents protest planned demolition
LAGOS State Governor Babajide Sanwo-Olu has visited the Magodo Phase 2 area of the state as the estate management  ordered a closure on the estate gates in protest against the planned demolition of property in the area.
Sanwo-Olu was at the estate at about 3pm on Tuesday.
Before then, there were scores of armed policemen in the area, who have reportedly been accompanying suspected land grabbers to claim possession of property.
During one of such invasions, the group used red, brown and blue inks to inscribe 'ID/795/88 Possession Taken Today 21/12/21 by Court Order,' on various properties on the estate.
The suspected family were said to have led the group and armed policemen to the estate to execute a Supreme Court judgement.
The group was about to invade the estate with a bulldozer when the estate management ordered a closure of the gate.
It was learnt that Lagos State Governor Babajide Sanwo-Olu had to intervene before the gates could be reopened. The Inspector-General of Police, Baba Usman, also promised to withdraw the officers at the scene.
Meanwhile, estate chairman Bajo Osinubi has said that the policemen have refused to leave, expressing that residents are now living in fear as the armed security operatives are still on the prowl.
"More than 50 armed policemen are still around and they are restless and didn't go for Christmas and New Year. In the morning and evening, they carry their guns around and you can imagine what will happen if there is a disagreement between the group and residents and somebody was shot, what will be the reaction of the IGP," he said.
Meanwhile, some houses in the estate have already been marked for demolition as shown in a video circulating on social media.