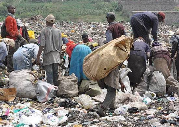 CITIZENS COMPASS- A suspected scavenger has reportedly lost his life following an alleged mob action on him, on Tuesday, in Igbogbo/Baiyeku area of Ikorodu, Lagos.
This occured barely a month when a scavenger was nabbed for allegedly stealing some aluminium frames within Macaulay.
The incident reportedly occured at about 2pm, at Boundary, Macaulay area.
There were conflicting accounts of what transpired but it was learnt that two scavengers were carrying out a scavenging activities at Boundary when the incident occurred.
One of the accounts said in the scavenging process, some electricity cables were found at their disposal and this raised suspicion and they were asked to defend this.
One of them volunteered to show people where they bought the items from only for him to stylishly left the scene on noticing that his colleague was been beaten.
Another version of the reports said the items were sold to them by the owner.
Citizens Compass gathered that the scavengers were stopped on their way to exit the community and were asked to produce the owner of the items.
However, the owner could not be reached and a scene was later created which attracted a mob action and the scavenger was stabbed by a yet-to-be identified person.
Eye witnesses' account said he was rushed to a nearby hospital where he was refered to another hospital but he gave up the ghost on the way.
At press time, Police from Igbogbo Division have commenced investigations.