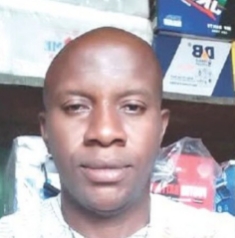 Crime
Police arrest ex-banker who exposes lovers' nude pictures   
CITIZENS COMPASS – Police in Lagos have arrested a former banker turned businessman, Amarah Kennedy, who posted nude pictures of his lovers to the social media. 
The lovers were said to be widows
Spokesperson, Lagos State Police Command, ASP Benjamin Hundeyin disclosed this in a tweet on Friday afternoon. He, however, did not disclose how he was arrested.
However, a blurred picture of the suspect who was in handcuffs has been circulated.
Reports had it that Amarah Kennedy had serially engaged in relationships with some women and subsequently turned to blackmailing them using their nude photos as his weapon.
In the most recent cases, he had blackmailed two different widows he had relationships with and demanded for money.
The women, identified simply as Kester and Temi, met him on social media platforms at different times and fell in love with him after he promised them marriage and showered their kids with gifts.
However, after disagreements, he shared their nude photos with them and demanded money with threats to make the images go viral.
Despite collecting N140,000 from Kester, a widow, and N15,000 from Temi, he posted the images on Facebook and WhatsApp.
Amarah Kennedy, got enraged after The PUNCH published an account of his atrocities and in fury circulated the nude photo of Kester in her church WhatsApp platform and social media pages, actions that provoked the police to get him arrested.
He was also reported to have shared the photos with her late husband's family members.