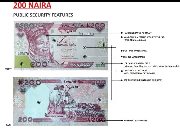 Business
Senate seeks extension of deadline on withdrawal of old notes
CITIZENS COMPASS– THE Legislative body in Nigeria has sought extension of the withdrawal date  of old currency notes from January 31 to June 30, 2023.
The Senate also urged the Central Bank of Nigeria to urgently see to this as scarcity of the redesigned notes is being experienced across the nation.
The Senate resolution was sequel to a point of order raised by Sen. Mohammed Ndume (APC-Borno) during the plenary on Wednesday.
The CBN had on October 26, announced plans to redesign the 200, 500, and 1,000 naira notes.
Raising Orders 41 and 51 of Senate Standing Rule, Ndume said that the call for extension of the date should be considered as a matter of urgent national importance in order to forestall imminent hardship on Nigerians.
Ndume said, "This senate notes that many Nigerian banks on Thursday, December 15, opened their vaults to customers and depositors to exchange their old currency for the newly redesigned currency which has a stipulated deadline of January 31.
"Some Nigerians are already envisaging long queues in the banking hall across the country as a result of people trying to get access to the new naira note.
"The old notes are expected to be in circulation along the new ones until January 31 when the old ones are expected to be phased out.