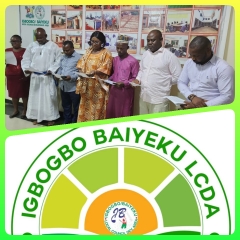 Community
Sesan Daini inaugurates committee on palliatives 
CITIZENS COMPASS – IN his bid to cushion the effects of the removal of fuel subsidy on residents of Igbogbo-Baiyeku in Ikorodu Division in Lagos, the council chairman, Olusesan Mayokun Daini, has inaugurated a seven-man committee for food bank initiative, Citizens Compass can authoritatively reveal. 
The inauguration was held yesterday, at Igbogbo Baiyeku LCDA Secreratiat in a low-key ceremony.
Speaking at event, the council chairman, the food bank will run for the next six months. 
He said the committee, which is made up of select members from various capacities, will be responsible for distributing palliatives to residents, without allowing anyone to hijack the process.
Daini said the committee will also ensure that the genuine initiative and intentions of the administration are actualized, with a work plan for distribution patterns in wards, socio-economic strata, particularly the vulnerable and poor groups, without compromising the integrity of the process.
Among the committee members are Mrs. Sonaike Toyin M. as Chairman, Mr. Abayomi Adelakun, Imam Hakeem Sanni, Mrs. Adekemi Okusanya, Mr. Adeyemi Benson, Pastor Babatunde Fashola, and Mr. Taiwo Oduntan as Secretary.
The Chairman said, "The establishment of this committee is a clear indication of the Igbogbo-Baiyeku LCDA's commitment to supporting its community and providing relief to those who need it most. 
" The food bank initiative will help to mitigate the impact of the fuel subsidy removal and make life easier for the people of the community."