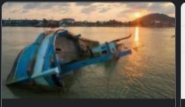 Community
Kwara Boat Disaster: ATBOWATON expresses shock, condoles with governor, affected families
CITIZENS COMPASS – THE Association of Tourist Boat Operators and Water Transporters of Nigeria (ATBOWATON), has condoled with Kwara State Governor, AbdulRahman AbdulRazaq over the boat mishap which claimed the lives of over 100 passengers on Monday, June 12, 2023, in Patigi Local Government Area of Kwara State. 
The association described the mishap as horrifying and sad.
ATBOWATON expressed its condolence in a statement signed by its President, Dr Gani Tarzan Balogun. 
Recall that a wooden boat conveying many wedding guests was submerged in water drowning over 100 while over 100 were rescued. 
Earlier on Wednesday, Kwara State Police Command put the death toll at 106 while 144 persons have so far been rescued.
Balogun in his condolence message  stated that the incident has once again cast a dark shadow over commercial boat services in the country which have been accidents free in the past due to serious monitoring and compliance ecosystem by the National Inland Waterways Authority(NIWA).
" We at ATBOWATON  wish to condole with the families of the victims and the government of Kwara State. Though the boat does not belong to our registered body or any operator known to us but boating is a confraternity, and our heart goes to late captain and owner too. " He said. 
Going forward,  he promised to mobilize members of the association in New Bussa, Niger state, and other sister bodies  to physically visit Kwara State to evaluate the development and thereafter, visit the governor of Kwara state to share ideas on how to mitigate such incidents in the nearest future, adding " we shall proffer solutions,  insist on  obedience to extant regulations,  and advise that there should be efforts to clear logs and debris out of the waterways. 
" ATBOWATON frowns at night sailing. It is not only dangerous and against the law, passengers not also wearing life jackets or poorly produced ones,  endangers the lives of both passengers and the captains. So, we shall see how serious a sensitization campaign can be deployed to arrest future occurrences. " He added.