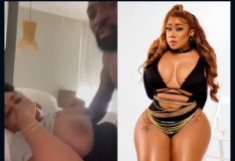 Entertainment
SEX TAPE : Moyo Lawal's lover gives shocking revelation 
CITIZENS COMPASS —SHOCKING revelations have hit the entertainment industry as the man in the leaked sex tape of popular Nollywood actress, Moyo Lawal, Ugochukwu Onyinanya has taken to his Facebook page to narrate his relationship with the actress. 
The actor popularly known as MC Ug Future revealed that he dated the actress for two consecutive years. 
He wrote;
"I was not raised to betray people, I dated Moyo Lawal for 2 years 2020 – 2021. She loves private video s3x & a lot of crázy things.
I have all our s3x tapes, all these while but I can't hurt my colleague and myself. Thought she hurt me many times"