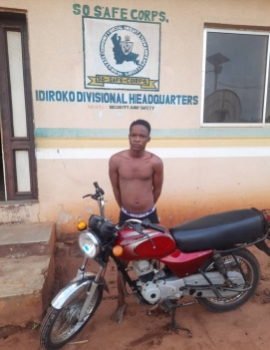 Community
So-Safe Corps nabs ex-convict for stealing Okada in Ogun
CITIZENS COMPASS – THE Ogun State Community, Social Orientation and Safety Corps popularlly known as So-Safe Corps has apprehended an ex-convict for stealing a motorcycle around Abule Teacher in Ipokia Local Government Area.
He was aoorehended at night on April 21, 2023.
This is contained in a press statement issued from the office of the State Commander of the Corps, Commander (Dr) Soji Ganzallo through the office of the Director of Information and Public Relations of the Corps on Sunday. 
According to the statement, the suspect Timothy Sonyegbe, 21 years old, vulganizer by profession, who resides at Sonyegbe Compound, Ijofin in Ipokia Local Government Area, (whom the agency has placed on surveillance after he has served a jail term) was seen riding a motorbike at odd hours. 
On sighting the officers of the Corps in Idiroko Division, under CSC Abdulkareem Abdulrazaq, the Idiroko Divisional Officer on routine patrol, he stopped, then make a U-turn to escape; a signal that his hand may not be clean.
Ganzallo noted that the man was given a hot chase and he was captured and taken to the Division of the Corps.
He noted also that the alleged suspect is a two term ex convict who served at Ilaro Correctional Centre for fuel and motorcycle theft. 
The Commabder further explained that during preliminary interrogation, the suspect confessed that the motorbike found with him is a stolen one
He also informed that after preliminary investigation, the suspect and the recovered Red Boxer Bajaj motorbike with engine number DXWLB46095, Chasis number MD2A18YXUWB5530, and two small Tecno phones have been handed over to the Nigeria Police, Ipokia Divisional Headquarters for further investigation and likely prosecution.