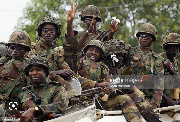 Crime
Soldiers arrest hoodlums, recovers gun, knife in Abeokuta
CITIZENS COMPASS– OPERATIVES of the Nigerian Army have arrested four hoodlums and recovered a pistol, knife and other items in Abeokuta, Ogun State capital.
The hoodlums were arrested at Sapon area of Abeokuta South Local Government.
A soldier at the roadblock in Sapon, Abeokuta during a brief interaction told newsmen that four persons were arrested with dangerous weapons, including, a gun and a knife.
The soldier whose name was not inscribed on his badge explained why they are usually hard on people.
He said, "when you see soldiers being hard on anyone, he is not just punishing anyone.
"We arrested four persons with gun and knife. What are they doing with the gun and knife at the polling unit?
" I ask you , can you tell me what a voter wants to do with a gun and a knife?
" If they escape from police, they cannot escape from soldiers, we will catch them."