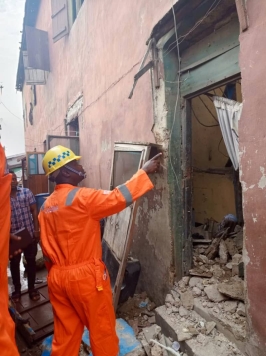 Community
Storey building collapses on street trader in Lagos 
CITIZENS COMPASS —Many occupants of a story building im Oyingbo, Lagos State have been rendered homeless when the building partially collapsed on a street trader, trapped and sent her to her early grave. 
An occupant of the building amd her baby were said to have sustained minor injuries diting the collapse. 
who operated in front of the building
The incident occurred on Thursday, at about 8.30 a. m., at Number 34, Oloto Street, by Borno Way, off Freeman Street,
Until her death, the street trader was said to be operating infront of the building with two of her younger relatives who were about 15 years of age. 
The elderly woman was said to be returning from upstairs where she had gone to pick some wares unfortunately, she was trapped while descending the staircase. 
The incident threw Borno Way into mourning as some customers of the deceased gathered to mourn her. 
Both children staying with her were said to have escaped unhurt with other occupants. 
Information gathered at the scene of the incident said officials of Lagos State Government werr said to have made frantic efforts to dislodge some of the occupants who were bent on seekjng shelter at the remaining part of the partially collapsed builfing until the place was cordoned off and the rooftop rem9ved by the officials to discourage anyone ftom lodging there. 
According to the Permanent Secretary, Lagos State Emergency Management Agency (LASEMA), "The Agency responded to distress calls concerning the above and upon arrival 
discovered a storey building in a state of partial collapse.
" Further information gathered at the incident scene revealed that an internal suspended beam in a room collapsed at about 7:45am due to the aging and lack of maintenance of the structure .
Unfortunately, an old woman died from the impact of the partial collapse.
"Status: Search and rescue operation ongoing.
" In Attendance : LASEMA Response Team, LRU Paramedics, Lagos State Fire and Rescue Service and LASAMBUS."
He put tje casualty figure at One," Casualties –    1, Injured –  nil
"The building has been cordoned off and LABCA has been contacted."