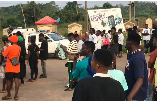 CITIZENS COMPASS- STUDENTS of the Moshood Abiola Polytechnic, MAPOLY in Ojere, Abeokuta, Ogun State, on Monday, staged a mother of protests against increase in school fees.
The students, armed with placards of various inscription trooped to the campus gate as early as 6:00 am to press home their demand.
With the assistance of the National Association of Nigeria students, Ogun State chapter, the protest took place amidst tight security.
The protesters alleged a hike in their school fees promising to shut down the institution if nothing was done.
However, the school management said the returning students were not affected by the increment.
A statement jointly signed by the Chairman and Public Relations Officer of NANS, Ogun Joint Campus Committee, Damilola Kehinde and Olufemi Owoeye, partly reads, "We are disheartened to converge here today, not for celebration but to decry the suffering and panic the management of MAPOLY has subjected us to as students. Our offense as Nigerian students is that we want to be educated and the Dr Adeoye Odedeji-led management of MAPOLY is saying education is not for the poor.
"Few months ago, in the last academic session, tuition fees for both the National Diploma and the Higher National Diploma students were increased, including part time students, whose figure was not accurately given. We resisted this increment and came to a benchmark of reduction in the initially added amount after due consultation.
"The clear promise made to the student body by Dr Odedeji and other members of the management team was that there would no longer be increment. At least, not in his own time as the acting Rector. Little did we know that he was only waiting for the state government to confirm his appointment as substantive Rector before unveiling his policy to make MAPOLY unaffordable for the masses.