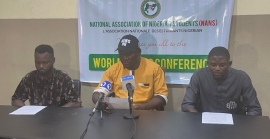 CITIZENS COMPASS – National Association of Nigerian Students (NANS), on Friday, August 4, 2023, rejected an increment in school fees in Nigeria higher institutions especially the South – west. 
The students union registered its plight in Lagos, at a press briefing addressed by its National Public Relations Officer, Giwa Yisa Temitope. 
"Over the past few weeks, we have witnessed an unfortunate wave of fee hikes across our tertiary institutions. From the University of Lagos, University of Benin, University of Abuja, Obafemi Awolowo University, University of Jos all the way to the University of Ibadan, amongst others. *We are also aware that many state institutions, including Polytechnics are also planning to increase fee. Even the Unity schools were not left behind in this unfortunate trend.
"As the umbrella body of the students movement, we have swung into action to arrest this inglorious trend. And our interventions which included writing to the Presidency, demanding a total halt in the wave of hikes been met with favorable response. 
" As of this moment, the federal government has instructed that all tertiary institutions should immediately shelve any plans to increase fees. It was in response to the letter we wrote to the Presidency. 
" However, we are aware of defiant elements amongst many university authorities. It is the reason that we also took the liberty to write tertiary institutions that have increased fees. 
" On Wednesday, 2nd of August, 2023, we met with the authorities of the University of Lagos, and asked them to suspend the recently announced fee increments. And we want to commend the fact that the Vice Chancellor  promised that our demands will be carefully considered. Similar meetings are being held with management of other tertiary institutions including Obafemi Awolowo University, University of Benin, University of Ibadan, etc.
"We want to seize this moment to warn that failure to comply with the directive of the Federal Government on the matter of fee increment will leave us with no choice than to evoke the last C of Aluta: A nationwide confrontation. We will not only take our protests to the streets, we will bring them to your respective University gates. And it will be Aluta infinitum.
"Needless to say, the recent removal of subsidy on fuel has brought untold hardship on our parents. The agonizing pains and struggles our parents have to endure is such that have never been experienced before in the history of this country. More than 150 million Nigerians are living in multidimensional poverty. Small businesses are closing up, Nigerians are finding it difficult to survive. Our parents have borne more than enough hardship. We are not prepared to add fee hikes to our list of unending pains. 
"By this press conference, we are asking University authorities to reverse all increased fees to statusquo, and those still considering increment must immediately throw this idea out of windows.
" Accordingly, Students Union Presidents, and all organs of NANS are forthwith directed to start mobilizing their members for a total showdown in the event any tertiary institutions decides to dare our resolve to fight for our right to public education."