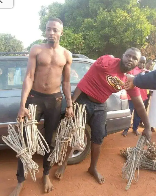 CITIZENS COMPASS- A suspect (names withheld) has confessed to involving in cable theft to fulfill his promise of buying Christmas dresses for his girl friend.
He was nabbed by a vigilance team in Logo State on December 23, 2022.
He was said to be arrested with his accomplice for stealing some power cables belonging to the community.
It was learnt that both were apprehended by the vigilante at Okpachala, Idah LG area of Kogi state for stealing of aluminium cable meant for community electricity.
During interrogation, one of them was quoted to have said that he carried out the offence to satisfy his girlfriend who was promised a Christmas dress.
The second blamed the Devil for committing such crime.
Both have been handed over to the Police.