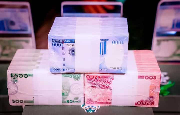 CITIZENS COMPASS– A video circulating on social media platforms has revealed a terrorist leader, Kachalla Balleri, flaunting the new Naira notes on a high way.
In the video which surfaced online on Wednesday, the kingpin was seen speaking in a local dialect that his gang has purchased weapons with new naira notes.
Balleri is one of the most wanted terrorist leaders terrorizing some areas of Zamfara, Katsina and Kaduna states; and some parts of Niger Republic.
Speaking in Hausa, he claimed to have used some of the new notes to buy ammunition, said only Allah knows the amount of the new naira notes he has stored in sacks.
He said, "They redesigned the naira, poor innocent people don't even know about it. Some don't even own up to N10,000.
"I wake up early in the morning to go and hustle. What of those who have millions in the cities? You see, it is between them.
The money they are saying people are changing, we that are in the bush are changing it, some people who are in the cities haven't even received it."
The video has attracted criticism from Nigerians as many have taken to various social media platforms to condemn it.
Governor of the Central Bank of Nigeria (CBN), Godwin Emefiele, had said that the policy aimed at curbing hoarding of currency and minimising incidences of terrorism and kidnapping in Nigeria.
Works and Housing Minister, Mr Babatunde Fashola, and his Finance, Budget and National Planning counterpart, Mrs Zainab Ahmed, yesterday, lamented that the Federal Government's Naira redesign policy is hurting Nigerians, with Ahmed saying President Muhammadu Buhari was unhappy with the hardship Nigerians are facing.
While Fashola said the policy needs to be reviewed, Ahmed said the "initial hardship is necessary for the economy."
The duo spoke the video of terrorists flaunting the new notes went viral with the CBN directing banks to pay the new notes over the counter, and not more than N20,000 per day.
The apex bank, which assured that queues at Automatic teller Machines, ATMs, would soon thin out, vowed to, in collaboration with the police and other security agencies, arrest and prosecute those selling and abusing the new notes.
Meanwhile, the presidential candidate of the New Nigeria Peoples Party, NNPP, Senator Rabiu Musa Kwakwanso, also said yesterday that presidential candidates are bank owners and would, therefore, not be affected by the scarcity of the new notes.