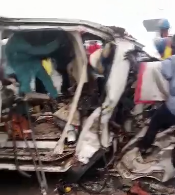 CITIZENS COMPASS– A fatal accident on Third Mainland Bridge which occured on Wednesday, has claimed the lives of three persons and injured 14 others.
This incident which involved a Mazda bus with number plate, OYO STATE SEY 858 YA, occured at about 6.45pm, at Adekunle axis of the Bridge, inward Adeniji-Adele.
The bus driver and two other occupants of the front seats were said to have lost their lives to the incident.
A video clip monitored by our Correspondent revealed how some of the survivors sat by the road side with their personal effects scattered all over.
Some sympathisers were spotted assisting the victims as emergency responders were doing the needful.
Eye witnesses' account said the bus was conveying the passengers from Oshodi enroute Ajah when it hit the Adekunle interchange demarcation leading to the fatal accident which claimed the life of the driver and two others.
An eye witness, Bola Owonikoko said traffic gridlock occurred around Ilubinrin, Adeniji-Adele and Adekunle as a result of the incident.
She said there was a backlog of traffic as onlookers also besieged the scene thereby disrupting free flow of traffic.
"There is a fatal accident at Adekunle inter-change inward Adeniji-Adele.
Three people are lying lifeless by the road side while 14 passengers were injured.
"onlookers from Adeniji Adele inward Iyana-Oworo are at the scene and this has generated serious gridlock to Ilubirim.
"Motorists are stranded at the moment, " he said.
Men of the Nigeria Police, Lagos Ambulance Services, Lagos State Traffic Management Authority, LASTMA, were on ground to perform rescue operations and control the traffic.