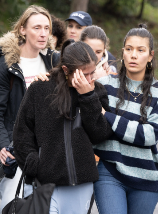 CITIZENS COMPASS– A 16 year old French high school student who claimed to be "possessed" and hearing voices killed a Spanish teacher by stabbing her to death in front of the class.
The tragic incident happened on February 22, at a private Catholic school in Saint-Jean-de-Luz, a posh beach resort town in southwest France, that bears the name of Saint Thomas Aquinas.
Agnes Lassalle, a 54-year-old female teacher, was the victim, according to French news sources. The teenager suspect was taken into custody and questioned by authorities on Wednesday, according to Bayonne prosecutor Jerome Bourrier.
An investigation into the possibility of premeditated murder has been opened. Bourrier went on to say that the 16-year-old pupil had no prior encounters with police or the justice system. Under the condition of anonymity, a senior government official said the police's initial information suggests the teen has major mental health problems.
The unnamed youngster allegedly told another teacher that he was possessed and had heard voices ordering him to kill his teacher after the stabbing. According to two students who saw the stabbing, the suspect got up, made his way to the door, then spun around and stabbed the teacher in the chest, local newspaper Sud Ouest reported.
Several witnesses who spoke to the media claimed that the young attacker seemed composed and remained silent. Some 90 pupils, including those who witnessed the deadly attack, together with some teachers, are receiving psychological assistance, according to French Education Minister Pap Ndiaye, who was addressing at the school.
All French schools will observe a moment of silence in Lassalle's memory. Since 1997, the teacher has been employed by the school.
"There was no reason to think that such a terrible tragedy could take place here. This is a very calm school, known for its seriousness and serenity," Ndiaye said