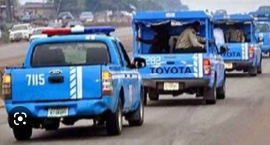 CITIZENS COMPASS – A truck has reportedly crushed a mother and her Seven years old son to death, along Akure-Owo expressway in Ondo state. 
One person was reportedly injured during the accident which ccurred on Sunday, July 30, 2023 when the mother who was in her 40s and the son were returning from Church after a Sunday service.
The incident was confirmed by the Ondo Sector Command Federal Road Safety Corps (FRSC). 
According to FRSC, the crash occurred at the Federal Government Girls College in Akure metropolis.
The state Sector Commander, Mr Ezekiel Son'Allah, blamed the cause of the accident on over speeding, which resulted in a loss of control on the part of the driver.
Son'Allah, said that "Two persons, a male and a female, lost their lives and one person sustained injury in the accident. The identities of the victims could not be ascertained at press time.
"The bodies of the dead victims were deposited at the state specialist hospital morgue, in Akure
An Eyewitness account said that the unmarked trailer crushed the victims on a motorcycle and they died on the spot.
The trailer, a Mercedes Benz model, was said to have made contact with the motorbike resulting in the accident.
One person reportedly sustained injuries in the incident.