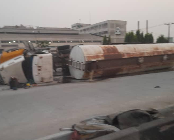 Community
Truck crushes Okada rider to death in Lagos
CITIZENS COMPASS– A petrol-laden tanker on Tuesday, allegedly crushed a commercial motorcyclist popularlly known as Okada rider to death in Mile 2 area of Lagos State.
The incident occurred outbound Mile 2, at Alaba Bus Stop, Apapa Oshodi Expressway, Amuwo Odofin, Lagos.
The incident occurred in the evening.
According to a motorist, Hephzibah Anderson, the incident occurred while the rider was jostling for space with the truck unfortunately this resulted in head – on collision which led to the death of the rider.
He said sympathisers watched helplessly as the content from the tanker spilled into the road thereby causing a traffic jam in the axis.
it was learnt that many road users were stranded for hours.
The Permanent Secretary, Lagos State Emergency Agency (LASEMA), Dr Oluwafemi Oke-Osanyintolu confirmed the incident is his situation report.
According to him, "The Agency has responded to an incident at the above location in which a fuel laden tanker has overturned due to a collision between the tanker and a motorcycle.
Unfortunately, the motorcycle rider was crushed to death underneath the tanker and its contents are spilling onto the road rendering the scene extremely hazardous to other motorists and passersby.
"The agency working with LASTMA, LSNC and Nigerian Police are working to secure the scene and carry out secondary incident containment measures while the heavy duty equipment to remove the tanker is enroute.
"Residents are urged to avoid any naked flame until the incident is contained. "
At press time, emergency responders were at the scene to evacuate the tanker.