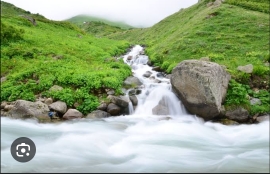 CITIZENS COMPASS —Two worshippers of Cherubim and Seraphim Church Onikoko via Itori area of Ogun State have reportedly drowned while swimming in a stream. 
The incident occurred on Monday, August 28, 2023, when the duo left Lagos for the church inauguration service.
They were 32yrs old Femi Akinola "m"  of Odo Eran Itire and  35 years old Tunde Falade "m"  Kola Alagbado in Lagos State. 
The police got wind of the incident when  a member of the Church, one Adebayo Adeosun "m"  reported at the station at about 1830hrs on Monday, that the worshippers who came from Lagos the previous day for his Church inauguration, left the church premises to swim, and got drowned in the process.
Both were later identified as Femi Akinola "m"  aged 32yrs of Odo Eran Itire Lagos State and Tunde Falade "m"  aged 35yrs of Kola Alagbado in Lagos, after they were rescued from the heavy tides. 
They were said to be rushed to the Health Center in Itori where they were unfortunately confirmed dead by a medical doctor on duty.
Confirming the incident, spokesperson of the Command, Omolola Odutola said the Divisional Police Officer of Itori, CSP Olayemi Jacob detailed his team to visit the scene  upon receipt of the report and ascertained that there were no marks of violence and no foul play suspected. 
She said their remains have since been evacuated to Ifo General hospital for autopsy reports and later deposited in the same morgue.
According to the spokesperson, "The Commissioner of Police, Ogun State Police Command while extending the Police deepest condolences to the families and loved ones of the deceased during this difficult time, assured that the Command remains committed to promoting public safety and preventing such tragedies in the future. 
"He however warned restive youths to steer clear of Rivers whose depth or tides they cannot ascertain.