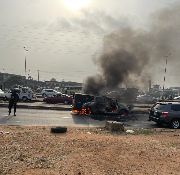 Community
Two feared dead as Police, Yoruba self determination group clashed in Ojota
CITIZENS COMPASS– TWO people were feared dead around Ojota, Lagos State on Monday, following a clash between a Yoruba self determination group and the Nigeria Police Force.
The incident occurred in the morning as video clips were seen trending on the social media.
One of the clips watched by Citizens Compass revealed one of the agitators ranting as he disclosed what transpired before the shoot-out.
According to him, a peaceful protest was ongoing at Gani-Fawehinmi park when a team of policemen arrived the scene and fired canisters at the agitators.
He said this resulted in a shot out and two agitators were reportedly gunned down.
The video spanned to the scene where two people were lying lifeless.
It was learnt that some policemen were injured in the process and were rushed to the hospital for medical attention.
In the videos obtained by Citizens Compass, the agitators threatened to burn down a police station.
While the clash lasted, some motorists abandoned their vehicles and ran for their dear lives while security operatives stormed the area to restore orderliness.
According to reports from commuters and residents in the Ketu-Ojota area, the peaceful rally turned into a riot when the Police decided to disperse the crowd.
The tension led to the exchange of gunfire.
Spokesperson, Lagos State Police Command, Benjamin Hundeyin tweeted that normalcy has however been restored to the area as Police officers were in the area to ensure that.
"In the early hours of today, miscreants masquerading as Yoruba Nation Agitators came out in their hundreds, disrupting social and commercial activities at Ojota area of the State.
"A team of police officers, comprising Alausa Division and the Raid Respond Squad (RRS) promptly stepped in to disperse the unlawful gathering and prevent a breakdown of law and order. The miscreants attacked the police, shooting, and destroyed two vehicles in the process.
"Meanwhile, normalcy has been restored to the area. Lagosians are urged to go about their lawful businesses as measures have been put in place to prevent further breakdown of law and order; and keen monitoring of the situation continues."
When our correspondent visited the scene, people were seen going about their normal business.
Recall that a sales girl, Jumoke Oyeleke was fell by stray bullets during Yoruba Nation agitation at Gani Fawehinmi Park in July 2021.
The incidents have been attracting condemnation from some right groups..