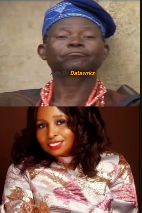 CITIZENS COMPASS– THE entertainment industry in Nigeria has lost two movie legends to the cold hands of death .
One of them was the Founder, Africa Movie Academy Awards (AMAA) and President, Association of Movie Producers, AMP, Peace Anyiam-Osigwe and another was Popular 1980s Nigerian actor Sunday Akinola, Baba Feyikogbon.
While the family of Peace Anyiam-Osigwe announced her passing on on Tuesday, Sulaimon Aremu, a singer and poet popularly known as Ajobiewe, announced the death of the actor in an Instagram post on Monday.
In a statement made available to the public, the family describes Peace Maria Ogechi Anyiam-Osigwe as "An epitome of creative transcendance"
The Statement reads "Emmanuel Onyechere Osigwe Anyiam-Osigwe clan in thanksgiving to God and in the belief that God is good and everything He does is good and in accordance with His divine will, pattern and plan, announce the passing to eternal glory of our illustrious beloved daughter, sister, aunt and great aunt Ms. Peace Maria Ogechi Anyiam-Osigwe (MFR)
"Peace, the Ada of the Anyiam-Osigwe family, was an outstanding personality, trailblazer, titan, pathfinder, go-getter, humanitarian, one-of-a-kind creative, and visionary leader in the film and television industry. Peace left indelible imprints on the sands of time.
We as a family and clan will continue do all that is necessary to ensure that her legacy lives on – the Africa Movie Academy Awards and the Africa Film Academy, along with their training programmes across Nigeria and the African continent will carry on seamlessly by institutions she set up and with the full support of the Osigwe Anyiam-Osigwe Foundation and other Institutions and Government Agencies whith whom she has worked over the years.* Her numerous charities across different religious denominations and other communities will also be continued.
"We will miss the love and companionship we shared with her and we pray "that your Chi guide you on the path to God's everlasting love into the light of his consciousness."
"We also pray God our Father of all mercies to grant you eternal rest in his heavenly kingdom where his perpetual light will continue to shine on
" We believe you are alive in the life of God because as our father said "ALL IS LIFE AND LIFE ALONE". And you continue to live in the hearts of all who love you.
"The family will announce the details of her rites of passage in due course.
"Meanwhile, the Family respectfully asks, at this time, for the public to respect the privacy of the family as we contemplate God's love for his children.
Meanwhile, "Feyikogbon" shot into the limelight in the 1980s and 1990s with his popular weekly sitcom, the Feyikogbon series.
He died at the age of 80 having hit the limelight between 1980s and 1990s with his popular weekly television series "Feyikogbon" which was aired on NTA Channel 7 Lagos State..
Born on September 19, 1942, he reportedly suffered kidney failure for years and solicited for help from the public in 2019 with the sum of N30m to travel abroad to treat the sickness.
Prior to this, he sadly explained that his famous play only gave him fame not wealth.
He introduced a new version of the programme, produced by Yinka Ogundaisi which aired on one of DStv's Africa Magic channels.
The entertainment industry has been mourning his demise.