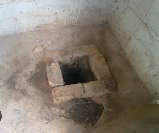 CITIZENS COMPASS– TWO unskilled labour have reportedly died while working in a pit toilet at Sabon Gari Market area of Kano State.
The incident occurred on Saturday, January 21, 2023, at Fagge Local Government Area while the duo were opening up the chamber to clean up the toilet.
Citizens Compass could not  ascertained the cause of their death but spokesman, Kano State Fire Service, Alhaji Saminu Abdullahi, stated on Sunday that the first victim, a 27-year-old, was working inside the soakaway when he got trapped and in an attempt to rescue him, his colleague, who was 17 years old went into the big, wide hole and was also trapped.
"We received an emergency call about the accident and immediately sent our rescue team to the scene,'' he stated.
He added that the fire service brought the duo out unconscious and took them to Murtala Muhammad Special Hospital where they were confirmed dead by doctors on duty.
Abdullahi stated that the corpses were handed over to the police at the Sabon Gari Police Division.
He attributed the deaths to high temperature and lack of oxygen inside the toilet pit.