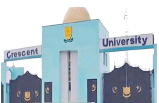 Education
University expels students for exam malpractices, drug abuse
CITIZENS COMPASS– A private university, Crescent University, Abeokuta, Ogun State, has expelled six students for various offenses ranging from examination malpractices and drug abuse among others.
The Vice-Chancellor of the university, Prof. Ibraheem Gbajabiamila said the students were expelled in 2022.
He disclosed this at the institution's 18th matriculation ceremony held on Saturday, January 14, 2023.
According to him, the said students were sent back home for failing to abide with the rules and regulations of the university, being the citadel of academic and moral excellence.
He admonished the fresh students to say no to cultism, drug abuse, violence, examination malpractice and other vices.
"Last year, we expelled six students for committing various offences against the university."
The varsity don stated that over 1000 students were admitted into the school for the 2022/2023 academic session.
This was contained in the 18th matriculation address by the Vice Chancellor, Prof. Ibraheem Gbajabiamila when highlighting the achievements of the institution's products over the years.
The university, founded by a former judge of the International Court of Justice and one-time Attorney-General and Minister of Justice in Nigeria, Bola Ajibola, refuted what the VC called "fake news making the rounds by online rumour mongers with spurious university ranking to demarket the university," saying Crescent University secured 100% score in the accreditation of programmes by the National Universities Commission (NUC).