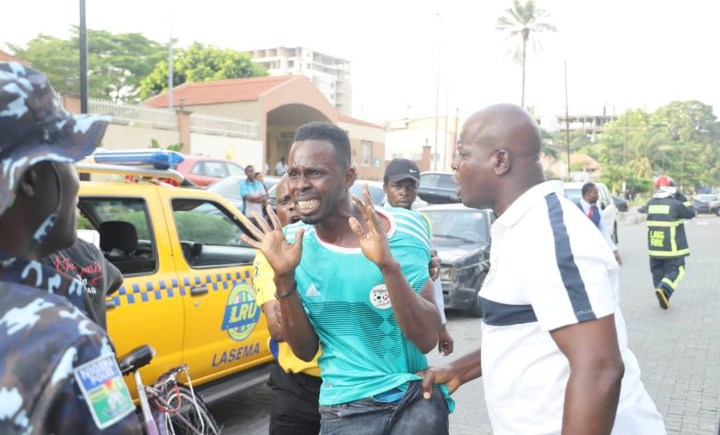 Community
UPDATED: Residents scoop fuel at scene of Oil spillage in Lagos

CITIZENS COMPASS– LAW enforcement agents in Lagos have apprehended some sudoects for scooping fuel at the scene of fuel spillage at 2,- 4, Mobolaji Johnson Avenue, off Glover Road Road, Ikoyi.
Though the actual number of those arrested was not disclosed at press time, but it was gathered that they were rounded off while scooping fuel when a fuel laden tanker broke down in their area spilling its content which spread rapidly into the neighbourhood.
Not considering the danger associated with their action, the residents were said to have rushed to the scene with different types of containers to scoop the fuel.
However, some of them were arrested to serve as deterrent while some abandoned their containers and fled the scene.
Items recovered were drums, wheelbarrow, buckets and bowls among others.
Citizens Compass reported that a fuel laden tanker had developed fault at about 5pm thereby spilling its content into the area.
Some residents however took advantage of this and rushed to the scene to scoop the content.
The Permanent Secretary, Lagos State Emergency Management Agency (LASEMA), Olufemi Osanyintolu condemned scooping of fuel for any reason saying it may lead to a secondary incident and outbreak of fire.
He said the incident did not record any loss of life or injuries as emergency operation was immediately activated.
The Agency activated its response plan to the above incident and encountered members of the public illegally scooping product.
"The culprits were duly apprehended and their tools have been impounded.
Operation completed with a secondary disaster averted.
"A combined team of the Lagos Fire Service and agency responders led by the Permanent Secretary have concluded the operation.'
Emergency operation successfully completed – Fire Service
In her updates, the Director, Lagos State Fire and Rescue Service, Adeseye Margaret said, "Sequel to the earlier alert on the spillage that occurred at 2,- 4 Mobolaji Johnson Avenue, off Glover Road Road, Ikoyi Lagos, where a petroleum product is gushing out from an underneath covered drainage onto the tarred road along the demarcated joint.
"The Lagos State Fire and Rescue Service has successfully mitigated the situation and thereby foreclosed the operations for the cause of investigation to commence in annex.
There is however no record of injury or fatality as the source of the spillage has been located, locked out and tag out.'
Recall that there was panic in the area following the truck laden with Premium Motor Spirit (PMS) which split its content on the road.
Citizens Compass was alerted of the incident at about 5pm.
Both the Permanent Secretary, Lagos State Emergency Management Agency (LASEMA), Olufemi Oke-Osanyintolu and the Director, Lagos State Fire & Rescue Service, Adeseye Margaret confirmed the incident to our Correspondent.
It was learnt that the content found its way into the neighbourhood thereby causing apprehension about possible fire outbreak in the area.
Both agencies were on top of the situation as they activated machineries to the scene.