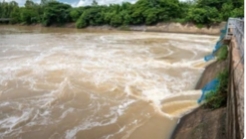 Community
Vacate flood-prone areas, Ogun tasks residents 
CITIZENS COMPASS —THE Ogun State Government on Friday, September 15, 2023, has alerted residents, especially those living around the Ogun River and flood-prone areas to vacate the axis to avoid impending danger. 
The State government said it foresees the likelihood of heavy flooding this month due to the torrential rain being experienced as predicted by the Nigerian Meteorological Agency and other related agencies. 
It was said this was in compliance with the updated water release forecast for flood control by the Ogun-Osun River Basin Development Authority effective from September 2023.
In a statement signed by the Director of the Ogun State Emergency Management Agency, Wale Shonde, it also advised residents and property owners living in flood-prone areas like Amolasho, Ijeun-titun, Arakanga, Warewa, Oke-Afa, Isheri, Akute, Ojumele, Isaka-Owode-Yewa, among others, to move upland to avert unforeseen disaster.
It further urged residents to steer clear of all activities capable of blocking the waterways while small and inadequate drainages should be widened to allow for the free flow of water as the safety of the residents and their property were of utmost priority to the state government.
"Stop using river channels as repositories. Desist from walking or driving through a pool of water or flood, and ensure proper maintenance and desilting of blocked drains," the statement added.