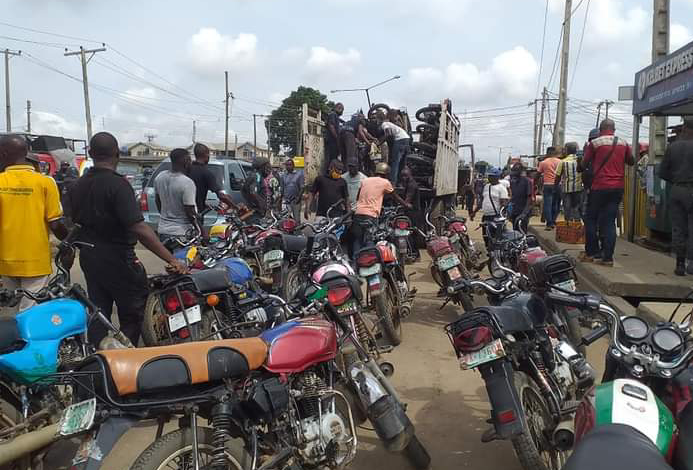 Commercial operators popularlly called 'Okada' riders on Sunday, took to the streets of Karu, a small town in Federal Capital Territory, Abuja, to violently protest the death of their colleague.
Hundreds of worshippers were trapped in the process before the arrival of law enforcement operatives.
It was learnt that the protesters, in an attempt to get justice for their departed colleague went berserk and started destroying vehicles and other properties in the area worth hundreds of thousand. Some were said to be causing harm to other innocent passersby.
The riot which was said to have started at about 11am, led to churches in the area locking their gates and issuing  warnings to their members to remain
indoor for fear of being attacked.
Meanwhile, Police operatives have been deployed to the area but  the protesters are said to be hauling stones and other missile at them.
Owing to the gravity of the violence, the Commander, Army Headquarters Garrison (AHQG), Major-General Dahiru, deployed Soldiers to the area in an attempt to arrest the situation.
Citizen's Compass gathered that residents of Karu, Jikwoyi, Kurudu, Orozo, Karshi among other towns in the area were trapped as residents and motorists alike have been asked to stay clear off the route until normalcy is restored.
A commercial motorcyclist  said the death of one of their colleague led to the protest. He alleged that a Police man shot an Okada rider, and when they heard it, they mobilized themselves to protest the killing.
At press time,  more security personnel have been deployed to some Churches in the area. This is so that the protesters won't attack members of the Church.
Meanwhile, FCT Police Public Relations Officer, ASP. Yusuf Mariam confirmed that the protest was as a result of the death of an Okada rider.
She said that the Police are doing everything possible to queer the situation and restore peace to the troubled area.