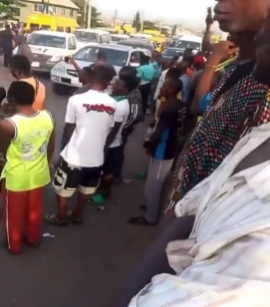 News
Transportation
We pay N25, 000 daily to Agberos- Lagos drivers
...commuters stranded amidst protests 
CITIZENS COMPASS– COMMUTERS plying Sango/Tollgate enroute Oshodi were stranded for hours, on Wednesday, as drivers and conductors of LT buses took to the streets protesting extortion by Lagos State Parks Management Committee led by Musiliu Akinsanya popularlly known as MC Oluomo.
The protests commenced in the morning with the drivers withdrawing their services on the Lagos-Abeokuta expressway as they converged on Sango-Tollgate and some other bus-stops on the route.
Armed with various placards, the protesters barricaded some sections of the road chanting solidarity songs, a situation which led to many commuters being stranded for hours.
The inscriptions on the placards read, "we are tired of Agberos extortion", "we can't continue working for Agberos", "we pay over N25,000 daily to agberos extortion", "Extortion killing us," among others.
LT drivers are dominant on Lagos-Abeokuta Expressway from Oshodi down to Sango/Tollgate.
Following the protest, many commuters resolved to trekking long distances as drivers of other commercial buses like coastal, long passenger buses swiftly increased their fares.
Though the Bus Rapid Transit (BRT) was at hand rendering its services from Oshodi to Abile-Egba but this could not cope with the number of commuters on this route.
It was almost a thug of war as commuters struggled to patronise any commercial vehicles at sight.
According to one of the protesters, Muyidini Sikiru, an average LT driver pays between N20, 000 and N25, 000 daily to Agberos who are usually armed with dangerous objects, manning various bus-stops to extort the drivers.
He said, The Agberos are ready to maim any driver who refuses to part with money. Sometimes, they vandalise our vehicles and threaten fire and brimstone to ensure compliance.
" Once a driver begins his journey, he is forced to pay Agberos from bus-stop to bus-stop until he arrives at his destination.
" From Ikeja-Along in Lagos to Sango, Ogun State, an average LT driver pays over N3, 000 per trip as the Agberos demand for loading fee, security, pick and drop, maintenance fee and several other charges.
" Failure to comply, the driver and conductors will blame themselves. "
One of the drivers, Musiliu Onafowokan, said extortions by Agberos was killing drivers in Lagos as their profit margin diminishes daily owing to the activities of Agberos.
" Our children can't go to school anymore, we are working for the agberos. They destroy our vehicles if we don't pay on time, it's better government do something about it so fast because we won't stop protesting until something is done."
Another protester said he used to be a driver but the extortion by the Agberos has forced his bus off the road as he could no longer afford its maintenance and he sold it off.
I am a graduate of Business Administration who resolved to driving to make ends meet unfortunately, the Agberos are making life difficult for us.
" My two children are out of school and fending for the family is not easy as the bulk of our profit goes to Agberos. MC Oluomo is untouchable as he seems to be enjoying the backing of the State government.
" Something urgent should be done to avoid breaking down of law and order. " He said.
Some commuters urged Lagos State Government to wade into the matter.
Efforts to reach Musiliu Akinsanya was unsuccessful at press time.