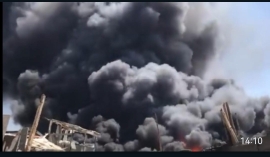 CITIZENS COMPASS – Lagos State  Police Command has urged members of the public to dismiss reports that fire gutted popular Alaba International Market on fire on Friday, May 5, 2023.
Rather, it said that its officers set ablaze some shanties being used as hideouts for criminals in the market. 
Spokesperson of the Command, Benjamin Hundeyin, clarified this in his tweets on Friday. 
Earlier, there were media reports that some shops in the market were on fire. 
Similarly, Lagos State Fire and Rescue Service had sent an emergency alert which reads, " Report reaching Lagos State Fire and Rescue Service indicates shops at the popular Alaba International Market, Ojo, Lagos are on Fire. 
" However, Fire Crew from Ojo, Sari-Iganmu and Ajegunle are being turned back by angry mobs from performing their statutory duty but presently on standby. 
" The agency is consequently collaborating wth Security Agents to address it." 
The agency later clarified that shanties, not shops were on fire, " It is instructive to confirm that shanties and not shops are however on fire, please." 
He said security operatives were on ground, " …and Security Agents are on top of it." 
But in a tweet, while reacting to a report of the fire incident at the market, Hundeyin said it was police officers from Ojo division, who set ablaze the shanties which were hideouts for criminals.
Hundeyin said the police officers recovered some weapons from suspected criminals at the shanties.
"This is a false narrative! Acting on credible information, police officers from Ojo Division raided shanties around the market, arrested suspected criminals and recovered some weapons. The shanties were thereafter set on fire.
"Alaba Int'l Market is NOT on fire!"