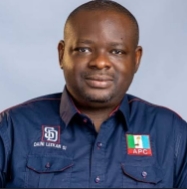 Articles
Why I donated educational materials to 12,000 pupils in Igbogbo-Baiyeku —Sesan Daini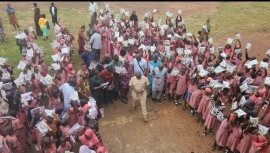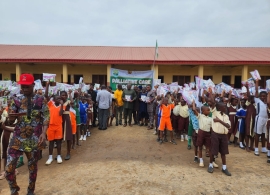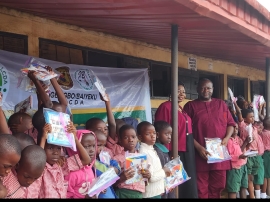 CITIZENS COMPASS —THE Council chairman of Igbogbo-Baiyeku Local Council Development Area (LCDA), in Ikorodu Division of Lagos State, Olusesan Mayokun Daini, has cited passion for educational goals in the LCDA as being instrumental to the distribution of  "Educational Aid and Support Programme" materials to 12,000 pupils in the area. 
He spoke with Citizens Compass on Thursday, September 14, 2023, shortly after the distribution of the items across the LCDA.
The Educational Materials is through the courtesy of the Council Chairman, Olusesan Mayokun Daini popularly known as 'Builder Sesan Daini'.
The distribution which commenced on Tuesday, September 12, 2023, cut across 13 primary schools in the five Wards of the LCDA. 
Recall that about a week ago, Daini made the promise to the Head Teachers that he will donate educational materials to their pupils and true to his words, the distribution commenced on Tuesday and lasted till Thursday, September 14, 2023.
The Council chairman said this is part of   the fulfilment of his electoral promises to the educational sector in the LCDA. 
The initiative which is the brain child of the Council chairman was launched in 2023 and was designed for pupils to serve as additional resources to the existing  ones.
On Tuesday, the distribution took place in three schools; the United African Methodist School (Eleja), Methodist Primary School, and Ansa-Ud-Deen Primary School; the second phase took place on Wednesday and the  third phase is expected on Thursday. 
On Wednesday, seven schools benefited from the gesture and three on Thursday to cap it all. 
Speaking at the event, Daini noted that the Programme is aimed at revolutionising learning within the LCDA, promoting and deepening existing educational equality by increasing access to educational resources by all the pupils irrespective of their background.
"We have a responsibility to our community and education sector and this  is why we have provided educational packs to all the students in the 13 primary schools across our LCDA", he said. 
The distribution was made alongside his Vice, Mr Okedina-Maja Nuraini, the Council Manager, Mr. Waheed Tijani, the legislative arm of Igbogbo/Baiyeku LCDA, Council Staff, CDC representatives, among other guests.