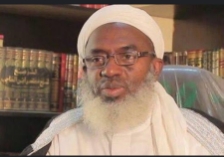 CITIZENS COMPASS —Sheikh Ahmad Gumi has berated the recent action of the Minister of the Federal Capital Territory, Nyesom Wike, describing him  as "Satanic" over his action in receiving the Israeli Ambassador to Nigeria in his office.
Gumi made the assertion in a video that has since gone viral where he also bemoaned that the Muslim-Muslim ticket of the APC has given the North the short end of the stick in the distribution of power in the country.
In noting that Christians, nay southerners cannot be trusted with power or protecting the interest of the North, the cleric said that "they would go on a killing spree but a Muslim wouldn't do that." He then said this is why it is important that Muslims do not leave power.
Lamenting that Wike received the Israeli ambassador to his office and as such calling him satanic, Sheikh Gumi said:
"The Minister of the FCT is a Satanic person; I said it before when he was appointed and some people were grumbling. He has gone and brought the Israeli Ambassador, that's what someone sent and I am yet to watch it. But what is confirmed is he said they will collaborate with the Israelis on Abuja's security issues. Abuja will now become an extension of Tel Aviv and when they see anyone with a beard like us, they will say it is Bin Laden and we will be killed.
"Where are those that worked for the Muslim-Muslim ticket? Hypocrites and worthless people. Abuja is becoming an extension of Tel Aviv and security is the bastion of the people. Have you not heard the silence? They know what they are doing. One Miyetti Allah leader came and told me that if they come to me with a proposal of negotiation with bandits, I should not be part of it, that I should leave it alone."