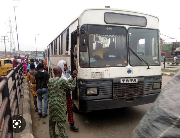 CITIZENS COMPASS– ONE of the female passengers of a High Capacity Bus with number plate, MUS 963 YE, on Ikorodu enroute Oshodi, Lagos State, has reportedly given birth to a baby girl while onboard the bus.
This occurred on Sunday evening around Glass House, Ketu.
The woman was said to have boarded the bus in Ikorodu Garage but fell into labour midway.
It was learnt that the male passengers in the bus were urged to excuse themselves from the bus as sympathisers rallied round the woman.
Narrating the safe delivery, one of the passengers said the woman fell into labour as the bus approached the Glass House bus stop after Mile 12.
"To deliver the baby, all male co-travellers were asked to disembark from the fully loaded bus to complete the delivery of the baby."
The woman was said to have given birth to the baby within a few minutes and sympathisers immediately rushed both mother and child to a nearby clinic for medical attention while efforts were made to contact her husband.
At press time, the mother and child were doing well.