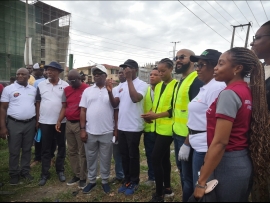 Community
Lekki residents partner LAWMA, others to clean up environment 
CITIZENS COMPASS —As a way of promoting cleaner environment, residents of Lekki Phase 1 in Eti-Osa Local Government Area of Lagos State, have partnered the Lagos State Waste Management Agency (LAWMA) and other agencies to clear and sanitise Freedom Way – Admiralty Way Canal in the axis.
The Chairman, Lekki Residents Association (LERA) Yomi Idowu: Chairman for the Environment Committee of Lekki Residents Association, Tari Taylaur and other community leaders led the exercise which took place between Thursday and Saturday. 
The three-day exercise, tagged, 'Freedom Way Canal Intervention', was in partnership with the Lagos State Waste Management Agency (LAWMA), Lekki Estate Residents Association (LERA) – Environment Committee; Lagos State Planning & Environmental Monitoring Agency (LASPEMA)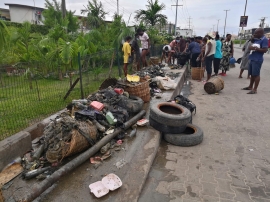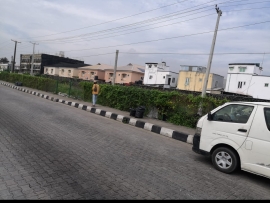 and This Present House Church – The Dome, among others. 
Some of the guests and partners of the event were the Managing Director/Chief Executive Officer, Lagos State Waste Management Agency (LAWMA), Dr. Muyiwa Gbadegesin, and Nigerian Music  Executive, Bankole Wellingnton, popularly known as Banky W.
The stakeholders, made up of Itedo market leaders, Community Development Associations (CDAs), shanty community leaders and car wash operators around the canal, were in attendance.
Welcoming the participants to the venue, Idowu said some aliens had crept into the community to deface it at nights, stressing, however, that the community leaders had been on their toes to nip this in the bud. 
"We have agreed that once we clean the area, the enforcement team of LAWMA will swing into action for the next three weeks and we will fence the area so that there won't be space to accommodate filth.
"This exercise is long overdue and we have to intervene since it has become an eyesore.
"The challenges are numerous in terms of non residents who hibernate and litter the streets with waste and that is why we have invited LAWMA and other stakeholders to clean up the environment," said the community leader.
LAWMA Managing Director/Chief Executive Officer,  Dr. Muyiwa Gbadegesin, said he was delighted to honour the invite, 
He said: "The exercise was part of the ongoing partnership with the people of Lagos State to ensure a clean environment under the THEME Plus Agenda of the State Governor, Babajide Sanwo-Olu.
He said, "What we are doing today is partnership with Lekki Peninsula, Phase 1 Residents Association to clean up the Freedom Way corridor, and ensure that this is sustained.
"We started by clearing the drainages along the road and addressed the issue of the setback which habours illegal occupants. 
"We have people living here and we don't know where they come from. They have been occupying that place for a while, but we have given them time to
relocate and we will ensure they don't return here as we will fence the area. 
"We are also partnering with other Lagos State agencies to get this done."
The Managing Director assured stakeholders of his preparedness, saying, "From LAWMA, we have the Operations Team, Street Sweepers, Marine Waste Team, Monitoring and Compliance Team and Special Enforcement Unit
"We have the Market Waste Team, which is currently meeting with the market leaders on the need to properly manage their waste, because, we have discovered that they are dumping a lot of waste into the drainages, rather than patronise the PSP operators.
"We are going to give it all it takes to pass the message of proper waste disposal to residents.
"What we want people to know is that we must stop littering and messing up the environment. We must stop indiscriminate dumping of refuse, urinating in the open and defacing our environment. 
"It is bad for our health and economy because no one will invest in a filthy environment," said Gbadegesin. 
Chairman for the Environment of Lekki Residents Association, Tari Taylaur, said of the exercise, "A new standard has been set and filthy environment is no longer acceptable, but we all have roles to play.
"LAWMA is doing a lot of advocacy as we want to make it a continuous exercise so that by the time we transform this place, all stakeholders will know that transformation is possible. 
"We have imbibed the culture of cleaning of drainages and canals in Lekki, in order to observe Lagos State Sanitation Laws, which says every resident is responsible for the perimeter around them. 
"If this is observed by every resident, the environment will be clean."
The Executive Director, Business Development, Crusader Sterling PENSIONS, Olufemi Dada, applauded the initiative.
He said: "The partnership is very interesting and has taught me that we can keep our environment clean, provided we are focused and determined at the personal level and as an association.
"Lekki is beautiful and all hands must be on deck to ensure this strategic, structural and planned exercise."
Cyril Effiong and Tony Asukwo, both  traders at Itedo market, said the exercise was an eye opener to them as no customer would like to patronise filthy environment.
Olubankole Wellington, alias Banky W, in his contribution, said it  was a good programme, adding that he had been doing this kind of thing over time.
He stressed: "If we don't take responsibility of cleaning our environment, no body will take it on our behalf. 
"We are happy that many stakeholders have joined us in this exercise.
"We encourage  communities to emulate this so that cleanliness will be as a culture to them."