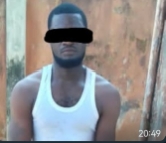 Community
Woman kidnapped on way from market
… So-Safe rescues victim, apprehends suspect 
CITIZENS COMPASS – THE Ogun State Community, Social Orientation and Safety Corps popularlly known as So-Safe Corps on Friday, said it has rescued an abducted victim and apprehend the suspect in Ogun State. 
This is contained in a statement issued from the Office of the State Commander of the Corps, Commander (Dr) Soji Ganzallo through the office of the Director of Information and Public Relations of the Corps, Assistant Commander Moruf Yusuf.
The Commander said that on 13th July, 2023, the Headquarters of the Corps charged the Ijebu Zonal Command under ACC Marcus Ayankoya to rescue a woman who was kidnapped at about 2200hrs on her way back from market.
He noted that he instructed his men to swing into action and get the culprits alive and to ensure the victim gained freedom in earnest and they went after them immediately. 
He explained that the State Headquarters of the Corps was briefed as the operation was on that the kidnappers collected the victim phone, gold jewelry, N100,000 in her possession and 1 Atm Card and they drove her away with her car. 
The team could not catch up with them because of Logistics issue. 
Ganzallo later disclosed that the team did not relent until they were informed of strange footprints on farmland at Oke-Ako Community in Ijebu-Ode Local Government Area. 
The Commander then instructed the Isiwo/Itamapako Divisional Officer of the Corps, SC Aderibigbe M.O to mobilize and lead his Special Squad to deal with the suspected kidnappers decisively. The kidnappers were tracked down after rigorous search for them as they tried to move the victim to a new location. 
He reported that there was a gun duel between the crime suspects and the Corps before the criminals bowed to the superior response of the Corps, while one of the kidnappers, who is 32 years old named Tunde Salami and a resident of Ibadan, Oyo State was captured alive and the kidnap victim was rescued unhurt. 
Ganzallo also said that the rescued victim was traumatized but not harmed. 
A locally-made pistol was also recovered from the suspect.
The apprehended kidnap suspect and the rescued victim had been transferred to the Nigeria Police Force, Obalende Divisional Police Headquarter for further investigation and likely prosecution.