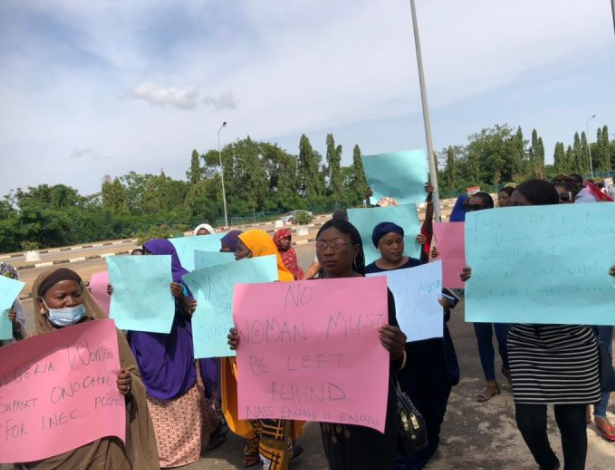 General News
News
Women demand confirmation of Lauretta Onochie as INEC Commissioner
...storm National Assembly in protest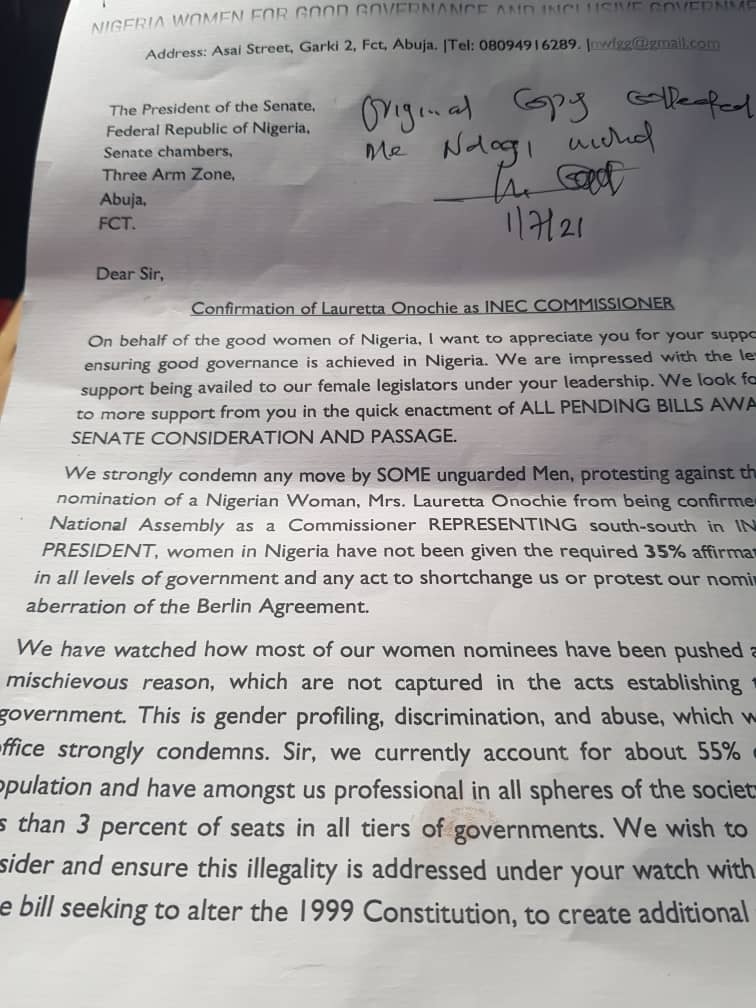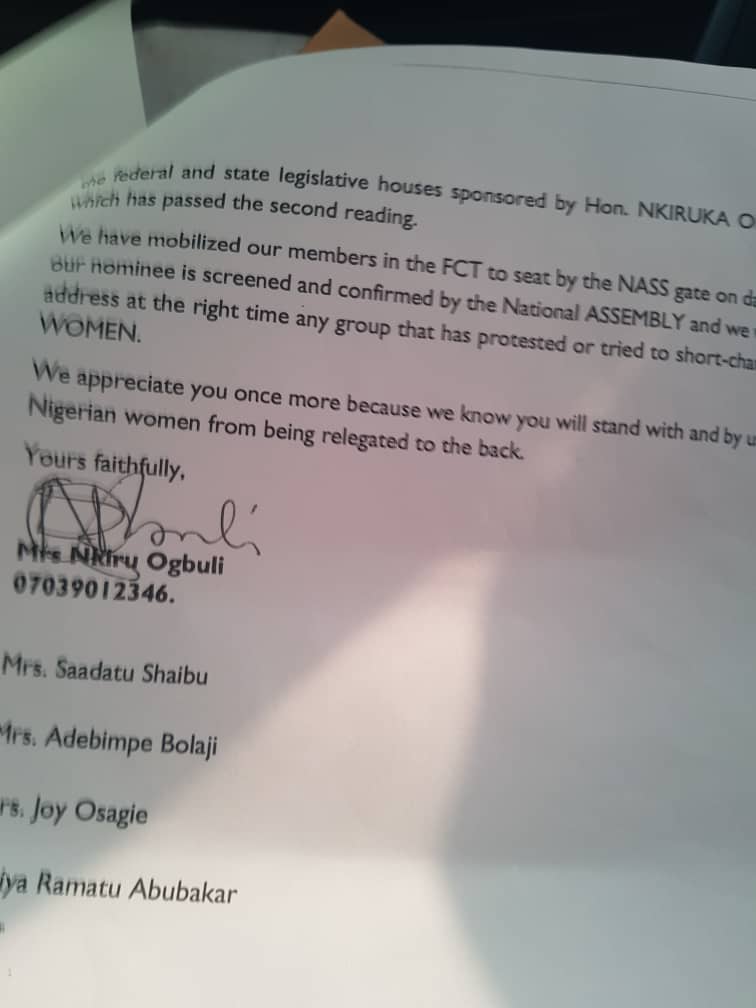 Women for Good Governance and Inclusive Government, has protested what they described as the unexplained Senate's delayed confirmation of Lauretta Lauretta as National Commissioner of the Independent National Electoral Commission (INEC).
The women stormed the National Assembly Complex at the Three-Arm Zone Abuja to express their displeasure over the treatment meted on Onochie, the Social Media Aide to President Muhammadu Buhari.
Recall that President Buhari nominated Onochie alongside Prof. Kunle Ajayi (Ekiti), Saidu Ahmad (Jigawa), Prof. Muhammad Kallah (Katsina), Dr Baba Bila (North-East) and Prof Sani Adam (North-Central), and their names were sent to the Senate for confirmation since in October 2020, nine months now that the President's transmitted letter requesting the Senate to attend to the nominees.
They described the delay in Loretta's approval as 'mischievous' behaviours of some elements within the Peoples Democratic Party (PDP) and other interest against her.
The women, who carried placards, said they were in support of Lauretta as INEC National Commissioner and that they were against any form of intimidation or subjugation, which they believe were merely in effort to block her confirmation and which must be allowed to succeed.
The women vowed to continue to resist blackmailers and those trying to bully the women of integrity, Lauretta Onochie, for always defending online her boss, President Buhari, against enemies of Nigeria.
One of the women who pleaded anonymity said the essence of their protest was to register their displeasure over the delay in confirming Onochie whose name was forwarded by President Buhari to Senate President, Dr. Ahmed Lawan, since October 2020.
She said, "We are here for the world to hear us, and for the Senate President to know that we are not happy over the delay in confirming Onochie as INEC Commissioner.
"We ask the Senate to confirm her or let the world know why her confirmation is being delayed for no just reason.
"We shall continue to stand against intimidation and subjugation of Nigeria women, and agents of underdevelopment.
"We hereby, urge the Senate to disregard enemies of progress who see nothing good in a patriotic Onochie, and respond to President Buhari's request for peace to reign.
"This is the 9th month Onochie's name and others were sent to the Senate for confirmation. We are no longer happy and that is why we are here to express our displeasure. Enough is enough!" She said.
In the meantime, the protesting Nigerian women have put their complaints in a letter titled, "Confirmation of Lauretta Onochie as INEC Commissioner".
The letter, addressed to the President of the Senate of the Federal Republic of Nigeria and signed by Mrs Nkiru Ogbuli on behalf of the women group, has been submitted to the Senate President and its receipt was duly acknowledged dated 1 July 2021.
The women said:
"We strongly condemn any move by some unguarded men, protesting against the nomination of a Nigerian Woman, Mrs Lauretta Onochief from being confirmed by National Assembly as a Commissioner representing South-South in INEC by president, women in Nigeria have not been given the required 35% affirmation in all levels of government and any act to shortchange us or protest our nomination is aberration of the Berlin Agreement."