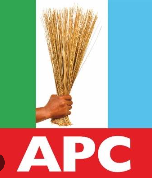 Politics
Youth leader allegedly threatens Lagos appointees to vote Sanwo-Olu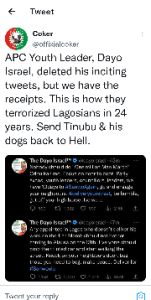 CITIZENS COMPASS– THE national youth leader of All Progressives Congress (APC), Dayo Israel, on Monday, allegedly threatened political appointees in Lagos on likelihood of losing their appointments should they fail to deliver their constituencies for Governor Babajide Sanwo-Olu in the forthcoming governorship election.
He posted this on his Tweeter handle though it has since been deleted.
This came after the flag bearer of Labour Party (LP), Peter Obi, was announced the winner of the presidential election in Lagos State defeating Asiwaju Bola Tinubu of the All Progressives Party (APC).
Dayo Israel had posted a tweet with the threat but not long after deleted it. However, some twitter users had already captured it.
The alleged threat has generated  reactions from social media influencers.
Coker @offixialcoker tweeted thus:
APC Youth Leader, Dayo Israel, deleted his inciting tweets, but we have the receipts. This is how they terrorized Lagosians in 24 years. Send Tinubu & his dogs back to Hell.
Demilade Osoteku @thisdemilade tweeted:
The interesting bit is that those who could not deliver their states should not expect other rpeoole to deliver their own stages. cc: Asiwaju and Dayo Israel. We may add Bashir to this list soon
Oiza @Steadi_lady posted:
If I'm APC I'll run you out of the party! You're part of the members Dayo Israel was lamenting about, you're useless in and outside of the party! You can't even deliver your polling unit , all you do is make noise on the internet.
The tweet by Dayo Israel has generated condemnation across social media platforms.