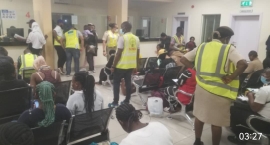 CITIZENS COMPASS– THE National Emergency Management Agency (NEMA) has received a total number of 151 distressed Nigerians who arrived from Benqahi, Libya.
The Returnees who arrived Lagos at about 9.30p.m, on Tuesday, March 28, 2023, were received by the Director General of the Agency, Alhaji Mustapha Ahmed at the Cargo Wing of the Murtala Muhammad International Airport, Ikeja, Lagos..
According to the Coordinator, Lagos State Territorial District of NEMA, who disclosed the arrival on Wednesday, March 29, 2023 after the profiling of the Returnees whose statistics indicates thay 71 adult females including two with medical issues, 10 female children and 7 female infants were returned through the Assisted Voluntary Repatriation by the International Organisation for Migration (IOM).
Farinloye said,
Also, the statistic shows that 54 adult males, foir male children and five male infants were among the repatriated distress Nigerians.
" They arrived the airport aboard Al Buraq Air Boeing 737-800 with registration number 5A-DMG at about 1930 hours.
" The Director General was represented by Mrs. Adenike OgunKunle, a Chief Executive Officer, admonished the Returnees to turn a new leaf by taking advantage of the second chance to make a meaningful life upon their safe arrival in the country.
" The Director General enjoined youths to thread softly on the urge to rushing out seeking for greener pastures where it no longer exists
'The NEMA Chief assured the Returnees of continuous of the Federal Government and other International partners in supporting them in reintegration programme to enable them recover fast.