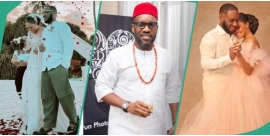 CITIZENS COMPASS —After 25 years of blissful marriage, former Nigerian football legend, Jay Jay Okocha and wife, Nkechi, have renewed their wedding vows.
This is in commemoration of the wedding anniversary and 50th birthday of the wife.

Videos of the event which have gone viral on social media  have attracted comments from his fans. 
It was learnt that the couple, who originally got married in 1998, was seen renewing their vows as the wife wore a white flowing gown and husband wore a shirt with a pair of trousers. 
In another enchanting video, Jay Jay Okocha's wife donned a chic black gown, and the couple showcased their dance moves next to each other, radiating sheer joy. The celebration exuded an aura of elegance and joy, reflecting the enduring love between the pair.
Their long term marriage has produced two wonderful children, Ajay Okocha and Daniela Okocha, who were also present to celebrate this occasion.
The couple's choice of the Maldives as their anniversary and birthday celebration destination couldn't have been more perfect.
The event not only captivated fans and well-wishers but also served as an inspiration for couples around the world to cherish and celebrate their love.