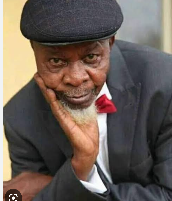 CITIZENS COMPASS– REMEMBER the popular Yoruba actor, Charles Olumo popularlly known as Agbako ?
He has just clocked the age of 98.
'Agbako' came to limelight in the 80s as he featured in various Yoruba movies playing the roles of bad men.
Olumo featured in 'Kanna-Kana' with other popular faces in the film industry.
He was a star actor with popular faces like late Ade Love, Ray Eyiwumi, Eddy Ugboma, Baba Ogunde, Adebayo Salami (Oga Bello), Segun Rasco Oyin Adejobi, Akin Ogungbe and Eda Onileola to mention but a few.
A digital creator, Femi Ajibode on his Facebook page sent birthday wishes to this veteran actor,
He posted the birthday wishes on Tuesday, February 21, 2923 this;
"Wishing Nigerian Yoruba actor and producer Alhaji Abdulsalam Sanyaolu popularly known as Charles Olumo or Agbako a happy birthday (born on February 19, 1925). At 98
"Charles Olumo is one of the living legends from the old order of Nigerian filmmakers. He has proudly credited himself as the 'first bad man' of the Nigerian film industry.
"He featured in his first big screen movie, Ija Ominira, by Ade Love. He went on to collaborate on successful movies with Akin Ogungbe, Baba Sala, Hubert Ogunde, Jimoh Aliu, Oyin Adejobi and many other thriving filmmakers in quick succession. He was nicknamed "First Bad Man' Of Nollywood".
"Happy birthday. Ase'yi s'amodun Sir!"