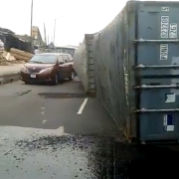 CITIZENS COMPASS– FEW hours after a containerised truck crushed nine passengers to death on Ojuelegba bridge in Lagos State, another container has fallen, at Sawmill inward Dopemu , along Lagos/Abeokuta Expressway.
According to a tweet by Lagos State Traffic Management Authority, the 40ft container fell at about 9.25am on Monday, January 30, 2023.
Also, a Tweeter use who shared the video of the scene said his sister recorded it on her way to work.
He said, "January 30, 2023. My sister, on her way to the office before Tower company going to Iyana Ipaja."
The tweet by LASTMA said the fallen 40 feet container occupied 90 per cent of the road.
"A 40ft container laden truck fell at Sawmill inward Dopemu under bridge, it's occupying 90 per cent of road. Our men are on ground doing the needful as effort is on for recovery."
LASTMA in another tweet said recovery operation was completed at about 3pm, "The earlier reported impediment at Sawmill inward Dopemu underneath the bridge enroute iyana ipaja is off the road, normalcy has returned."
Meanwhile, the Permanent Secretary, Lagos State Emergency Management Agency (LASEMA), Dr. Olufemi Oke-Osanyintolu confirmed another truck accident on Falomo Bridge, inward Akin Adesola, Victoria Island.
"An Iveco truck laden with a 20ft container suffered mechanical error (brake failure) resulting in a solitary accident that caused traffic gridlock at the neck of the bridge .
"A combined team of LRT, LASTMA and the Nigerian Police Force have concluded the recovery of the vehicle. "
Both incident did not record loss of life.
Recall that nine people were trapped to death while one other was rescued on Sunday, on Ojuelegba bridge when a containerised truck fell on a mini commercial bus (Korope).