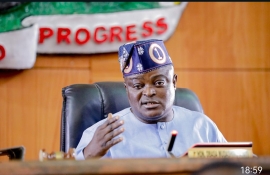 Politics
Sanwo-Olu writes Lagos Assembly, to reorder 2023 Budget
CITIZENS COMPASS —Governor Babajide Sanwo-Olu is seeking the approval of the Lagos State House of Assembly to reorder the sum of N234.669 billion from the 2023 budget of N1.768 trillion.
The governor said the reordering would enable the government focus more on capital expenditure and palliatives to cushion the effects of the current economic challenges faced by residents of the State.
In a letter read by the Clerk of the House, Barrister Olalekan Onafeko, at plenary on Tuesday, Governor Sanwo-Olu told Speaker Mudashiru Obasa and the lawmakers that the state was increasingly confronted with the need of his administration to meet the yearnings of the people.
The governor noted that the 2023 budget had been partially implemented adding that as at 30 June, 2023, it had 76 percent overall performance.
"We noted that some of the major MDAs that are supposed to implement the capital expenditure are performing below expectation while others have almost exhausted their budgetary provisions," the governor said in the letter dated 9th October, 2023, while noting that the administration plans to spend in priority areas once the approval is granted.
Governor Sanwo-Olu added that the government was working to ensure greater performance of the capital expenditure.
"Apart from this, we are confronted with the need of this administration to meet its electoral promises to the citizens and have resolved to take advantage of the clement weather condition in the later part of this year to complete various projects," the letter explained.
He said the reordering had also become expedient to help ameliorate the effect of the removal of fuel subsidy and the harmonisation of the exchange rates which have resulted in economic challenges for the citizens.
He listed some of the projects meant to be implemented with the reordered budget to include the Face 1 Blue Rail Line, provision of programmes and projects for social inclusion, gender equality and youth, completion of Lekki-Epe Road Face 3, provision of security and emergency equipment as well as zero-tolerance for potholes.
Meanwhile, Governor Sanwo-Olu has sent the name of Mrs. Kemi Ogunyemi for confirmation as a member of the State Executive Council.
Eromosele Ebhomele
Media assistant to the Speaker of the Lagos State House of Assembly.