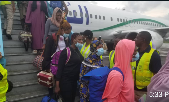 CITIZENS COMPASS– ANOTHER batch of 126 stranded Nigerians were on Thursday, assisted back to Nigeria from Libya.
They were received by the National Emergency Management Agency (NEMA).
NEMA Director-General Alhaji Mustapha Habib Ahmed who was represented by Ibrahim Farinloye, the Coordinator, Lagos State Territorial District, NEMA, while addressing the Returnees, urged Nigerians to be wary of close associates, family friends and neighbourhood elders who would deceive them with sweet talks of a better life in a foreign land.
"These people are found of cashing-in as a Messiah to lure innocent Nigerians to slavery which the victims would regret fir the rest of their lives.
The Director-General said the new ploy being used as destination points are Iraq, Dubai (United Arab Emirates) and Egypt but all their victims end up in connection houses in Libya.
The Returnees who were voluntarily airlifted from Misrata, Libya consisted of 62 adult females, six female children and four infant females while the males were 46 adults, two children and six infants by the International Organisation for Migration (IOM).
The flight, Al Buraq Air with registration number 5A-DMG Boeing 700-787 landed at the Cargo Wing of the Murtala Muhammad International Airport, Ikeja at about 16.22 hours.
The Nigeria Police, the Nigeria Immigration Service, the Nigeria Refugee Commission and the National Agency for the Prohibition of Trafficking in Persons (NAPTIP) were among other agencies that joined NEMA to receive the Returnees.