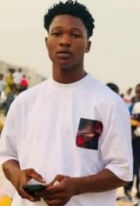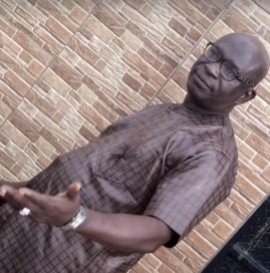 By Bose Adelaja 
CITIZENS COMPASS – THE 2023 Democracy Day is a day to remember in Nigeria particularly in the South-West owing to the change of power that recently took place.
However, to the Bakares of Number 4, Baale Street, Oregun, Ikeja in Lagos State, the sudden death of their 23 years old son, Bakare Adedamola Idris has brought tears to their faces and denied them the opportunity to celebrate. 
Not only this, the circumstances leading to his death will remain indelible in their memory. 
Hit by stray bullet 
The bereaved father could not speak with Citizens Compass when contacted but Idris' cousin, Tobiloba Bakare gave a blow-by-blow account of what led his brother to die of stray bullet, courtesy of a trigger happy police inspector, Kabiru Odejimi attached to Alausa Division. 
According to him, the incident occurred on Sunday, tMay 28, 2023 same day an event took place on Ibijoke Street, a neighbouring street to Baale where Idris was a guest. 
The last born of a family of three was a generating set repairer who went out leaving his phone at home until the party ended at about 11p. m when he rushed home to pick the phone in order to connect his friends who were to return to the venue for a post event. Alas! He was cut in his prime. 
No thanks to the inspector who cut him in his prime. 
Tobiloba said Kabiru was known for carrying out illegal raids and was said to be doing this at the nearest bus-stop when he pulled his trigger thrice scaring residents especially some guests who were returning from the party. 
One of the bullets was said to have travelled to a disyance and hit Idris who was about to enter his house at Baale Street.
Tobiloba said the deceased slumped immediately and blood flowed on his body with his clothes soaked with the blood. 
Despite the situation he found himself, Idris was said to have garnered strength shouting in Yoruba Language, " Oga Kabiru, E ti yin'bo fun mi" (Oga Kabiru, you have shot me). 
"Immediately, we assisted him to a nearby health center for First Aid Treatment but before the health center could open its access gate, the inspector drove down to the center and prevented Idris from gaining entrance. 
"He cocked his gun again and pointed it at Idris but later rescinded, pulled Idris with his clothes, dragged him into his vehicle and zoomed off. 
"With uncertainty staring us at the face, we headed for his station but he was said to be off duty. 
" As we thought about way forward, the Divisional Police Officer (DPO) who noticed our anxiety invited us and attended to us. 
" We gathered information that the inspector's place of assignment is the Tollgate area of Lagos/Ibadan Expressway. "We were told that he had no business on the streets and his action was illegal. 
" The DPO in his kind gesture put a call across the inspector asking him to present Idris dead or alive and his response was that our brother had been dumped at LASEMA Emergency Centre on the expressway. 
" With this green light, we all rushed to the emergency center. 
Untimely death 
" On arrival, we met my brother in the pool of his own blood gasping for breath. 
" He died shortly after afterwards right in our presence. 
"Many thoughts filled our hesrts:How could the policeman do this to us? How could he have killed a prominent youth? 
" We cannot celebrate Democracy Day like others. My family mourns. "Said the bereaved cousin. 
Effort to reach the spokesperson, Lagos State Police Command was unsuccessful at press time. 
However, Citizens Compass gathered that the trigger happy Corp will be derobed on Tuesday, June 13, 2023. 
Recall that series of senseless shootings and killings have taken place in Lagos within the past one year.
On December 25, 2022, a policeman attached to the Ajah Police Station shot dead a 41-year-old pregnant lawyer, Bolanle Raheem, under the Ajah Bridge, in the presence of her husband.
Another of such incident was that of Gafar Buraimoh, a resident of Happy Estate in Ajah, who  was hit by a stray bullet at about 10 p. m while coming out of SkyMall on December 7, 2022 by a police inspector attached to the police station.
Koleosho Abayomi is a security guard at the Lekki Peninsula Scheme II, in the Eti Osa Local Government Area of Lagos State. He was shot by a police officer enforcing the ban on motorcycle operations in Lagos on September 28. 2022, He was however fortunate to have survived.