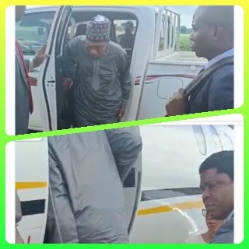 CITIZENS COMPASS – THE suspended Governor, Central Bank of Nigeria (CBN), Godwin Emefiele has been flown to Abuja by the Department of State Services (DSS).
He was flown Lagos to Abuja on Saturday, June 10, 2023. 
Recall that Citizens Compass reported on Friday, June 9, 2023, that the embattled CBN Governor was suspended by President Bola Tinubu following the hardship he inflicted on many Nigerians through his Naira redesigned policy. 
Emefiele was captured in a video accompanied by some DSS officers who led into a waiting plane. 
DSS has confirmed Emefiele's arrest after it initially denied that the suspended CBN Governor was in its custody.
The Service, on its Twitter handle on Saturday, said Emefiele was not in its custody. 
Despite the denial by the DSS, inside sources ssid that the former CBN chief was in the custody of the secret police.
But confirming the report on Saturday evening, DSS spokesman, Peter Afunanya, posted: "The Department of State Services (DSS) hereby confirms that Mr Godwin Emefiele, the suspended Governor of the Central Bank of Nigeria (CBN) is now in its custody for some investigative reasons."